This holiday season we're taking a look back at last year to learn which deals, coupons and discounts consumers are most likely to respond to this year. We've created two custom categories of websites, Social Buying and Coupons, and have studied their traffic patterns over two years. What we've found is that overall visits to coupon sites are greater in aggregate than visits to deal sites. We saw the Social Buying category peak in May-July 2011 and then plateau to a pretty steady flow of traffic. Both coupon and deal sites have reached a set-point in 2012. But coupons are probably the more significant buying habit to focus on this holiday because of the big spike in visits to the Coupons category last November. We expect to see a similar ramp in visits to coupon sites this holiday season as well. What is important for marketers is to find ways to optimize for coupons and come up with coupon codes in order to increase traffic and transactions on your website.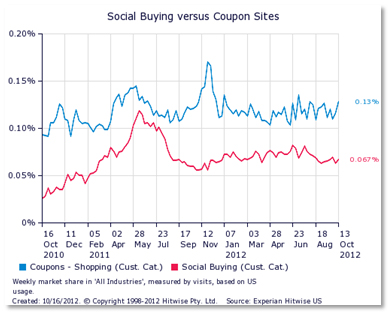 Seventy eight percent (78%) of last year's tracked holiday campaigns had some form of offer or discount. Overall, campaigns with offers had witnessed a decline in opens and clicks but powered through with a 68% higher transaction rates and 60% increase in revenue per email over campaigns with no offer. When looking at the kinds of offers or discounts, we see the big winners were % off, $ off and multi-offers, while there were fewer free gifts and countdowns.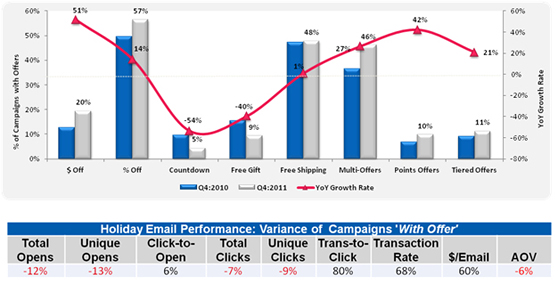 Since we can't know for sure what the future holds, it is important to look at what happened last year to inform us directionally as to what we should expect for the upcoming holiday season. This data makes the case that you should definitely make an offer or present a discount within your email in order to increase transaction rates and revenue per email.
For more tips watch our holiday webcast featuring insight you can use right away and keep your eye on this blog.