Welcome to the first edition of Trending Now, covering the latest trends in email, mobile and social marketing. Twice a month, I'll be bringing you a hot trend, zeroing in on it and helping you determine if this trend is something that could help build your brand or business.
To give you an example of the types of trends I might highlight, I thought I would start by examining a few past trends.
Earlier this year, Experian Marketing Services polled email marketers on a number of topics and found pockets of new and emerging trends. One was the use of website pop-ups. 22% of marketers polled said they use this type of email acquisition method. 22% might sound small, but think about what that means in terms of how you shop, read articles or surf online. That's almost 1 in 4 sites utilizing an email acquisition pop-up. If you want to test the statistic, go online and shop or read away. I tried it myself and was surprised to see the number of sites using this method.
Sport Chalet recently published numbers for their site's pop-up which showed more than an 85% lift in valid email addresses over using a site footer or header link – impressive stats for a simple implementation. So now that you know that a site pop-up worked for Sport Chalet, what else should you know?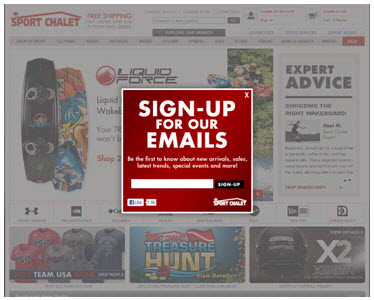 For non-retailers, yes, you should test it. While we are only sharing stats for one retailer, our anecdotal data supports that this works across verticals. If B2B, financial or travel industries have the resources we suggest testing this tactic.
 Test how the pop-up should function. We suggest using cookies to only show a pop-up to those who visit your site the first time and exclude those who have filled the form out already.
 Try testing this pop-up in different parts of your site. For publishers who might have different newsletters to sign up for, this can be especially valuable.
 Remember to track your source differently. If they came in through the pop-up, make sure you know that. This will be helpful for reporting if you have deliverability issues stemming from this source, or if you want to speak to these users differently than you might speak to a user coming in through checkout or in-store.
 Another useful tip around the holidays is to acknowledge that your emails might go to spam. BHLDN's campaign is a great example of letting their subscribers know to check their spam folder if a welcome email doesn't come right away – an easy message to add as you're updating a pop-up on your site.

As we near the holidays, we anticipate new trends emerging with marketers thinking outside of the box in terms of how to penetrate overcrowded inboxes. Stay tuned for our take on these new trends, what we see working and what might just be a flash in the pan.