The start of the new fall TV season presents advertisers with new and exciting opportunities to connect with viewers, but details about who is actually viewing these new shows is limited, and committing ad dollars up front for untested programs requires advertisers to take a leap of faith. Even after a new show begins airing, marketers will only get ratings for key demographic breaks and a select set of consumer behaviors measured by Nielsen. Helping uneasy media planners and buyers sleep better during the initial weeks following a program's debut, Experian Marketing Services provides marketers with insights into thousands of precise consumer elements, including viewers' brand preferences, lifestyles and attitudes using Simmons TV BehaviorGraphicsTM.
To illustrate this, we decided to take a peek into the behaviors of viewers to this season's new broadcast shows that aired on ABC, CBS, NBC and Fox during the month of September. In this example, given the explosion of media multitasking, we thought it was relevant to identify the likelihood of each program's viewers to use the Internet via their computer while watching TV. A list of the 14 new shows that have premiered so far this season — seven each half-hour sitcoms and hour-long dramas — are listed below. The sitcoms are in blue, the dramas in red.

Using Simmons TV BehaviorGraphics, a proprietary consumer segmentation system based on TV viewing behaviors that links 60,000 consumer elements measured by the trusted Simmons National Consumer Study (NCS) to Nielsen's National Television Index (NTI), we identified the nine viewing segments that rank highest in the NCS for their propensity to surf the Web while watching TV. The top scoring segment is one called Trendsetters. This segment's TV viewing behavior is highly focused on entertainment TV, which includes programs on E!, Bravo, MTV and more. In addition to media multitasking, Trendsetters stay on top of the latest celebrity gossip, own the latest electronic gadgets and stay in touch with friends through social media. A brief profile of all of the top-ranking segments is below.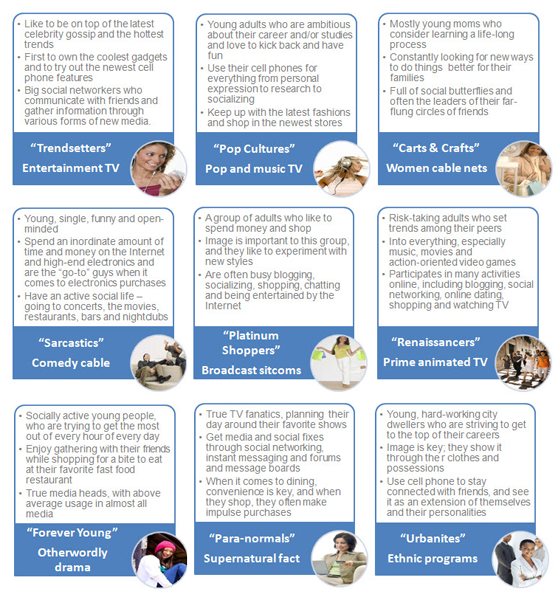 With the top-indexing BehaviorGraphics segments in hand, we can then examine their viewing to each of the 14 new broadcast programs against the latest ratings data from Nielsen. Below, listed in descending order, are the programs where we can find the highest concentrations of these media multitaskers among the viewing audience.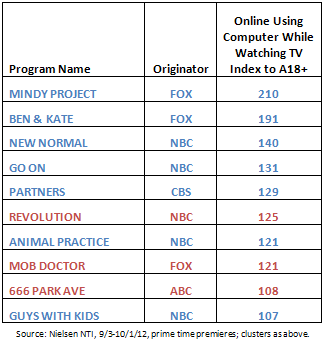 What is interesting about the rankings in this list is that sitcoms are much more likely to have an audience that is multitasking, compared with dramas in general. This is not surprising, given that the audience that is likely to do this is younger, as are sitcom viewers, and that dramas tend to require more involvement in the story to keep up with the plotlines.
The big exception in the list above is Revolution, on NBC, whose viewers are 25% more likely than adults 18+ to be online on their computers while watching TV. This post-apocalyptic drama series follows a young woman and her family as they try to find out why the power suddenly went out all over Earth and use a mysterious device they have to reboot the system. With executive production duties held by JJ Abrams (of Lost fame), it is no wonder that tech-savvy viewers are 25% more likely than the average adult to be media multitaskers.
The new sitcom most likely to attract these online multitaskers is the Mindy Project — starring Mindy Kaling, much known to TV viewers as Kelly from The Office — another show popular with young, tech-savvy viewers, with over 10 million Facebook fans. The Mindy Project, off to a strong start with nearly 75,000 Facebook fans, follows Mindy, an OB/GYN trying to juggle her busy personal and chaotic professional lives.
Advertisers who have committed to these shows should be aware of the higher than average likelihood that viewers are splitting their attention between the TV and the Internet. However, this also presents advertisers with an opportunity to engage viewers even more by driving them to Web properties, including the company or product Website, social media page or a hashtag that can provide targeted consumers with more information about the advertised product or with a way to interact with the brand in a more personal way.
The month of October brings more new programs, including Arrow (CW), Chicago Fire (NBC), Nashville (ABC), Beauty and the Beast (CW), and Emily Owens, MD (CW). Along with these new shows, it will be interesting to see how the audiences for returning shows change with the new TV landscape. Stay tuned for further updates on the attitudes, behaviors and lifestyles of TV viewers this fall.
Learn more about Simmons TV BehaviorGraphics and download a sample profile of BehaviorGraphics segment.