During last year's Digital Marketer webinar, we correctly predicted the staying power of deep discounting. Since the beginning of this year, our Experian Consumer Expectation Index has shown a gradual improvement in consumer confidence in our economy.
Checking in on value qualifiers such as "discount," "coupon" and "deal" we see that the number of search variations has remained constant during the same time period.
The king of value qualifiers, "cheap," shows moderate increases during 2012, specifically during summer.  This is most likely due to the popularity of "cheap" functioning as a value term in online travel searches.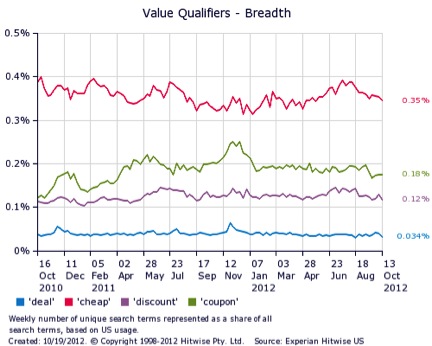 I decided to check in on the top ten search variations containing "cheap" over the last four weeks (ending 10/13/2012). In fact 50% of the terms are travel related.
The popularity of "cheap" as a value qualifier in travel might be explained by the commoditization of the industry. Loyalty programs excluded, do we really care which airline gets us from point A to point B?
What is surprising regarding our "cheap" searches is that we rarely see this qualifier applied to apparel. Do we really want cheap clothing? Yet appearing in the #9 position is one of the most important apparel searches – "wedding dresses."
Top 10 searches containing "cheap"
Cheap Flights
Cheap Tickets
Cheap Halloween Costumes
Cheap Hotels
Cheap Car Rentals
Cheap Gas
Cheap Airfare
Cheap Cruises
Cheap Wedding Dresses
Cheap Car Insurance
Join us Thursday, October 25th for our holiday digital marketer webinar where we will discuss search behaviors and other actionable insights for the upcoming holiday season.