Experian Marketing Services, now in its second week of holiday trend reporting, has released its insights for the week of October 7th, 2012.
This week the study finds:
Led by a strong performance by multi-channel retailers, transaction rates, revenue per email and average order values are all higher this season than they were in 2011.
Continuing last week's trend, the overall email volume for the holiday season is almost identical to that seen in 2011.
Halloween mailings are popular this week, but Christmas, Black Friday and Thanksgiving all received mentions in subject lines.
A trend of a 17% increase in $-off campaigns compared to 2011.
Offers to watch: So far this season, there are more Buy One Get One (BOGO) offers than seen in 2011.
Searches for Black Friday have doubled since last week.
This week's report also takes a look back at last year's trends to give marketers better insight into how to reach their customers effectively in the 2012 holiday season.
Best days and times to email
The Top 10 transaction days provided 22% of overall transactions and had 14% of the overall volume in the 2011 Holiday season.
Transactions on Cyber Monday were double those on Black Friday, which was the second highest transaction day. Thanksgiving transactions ranked third. The Saturday and Sunday between Black Friday and Cyber Monday present another great opportunity to email, as they ranked 6th and 8th in transactions, but only 68th and 72nd in volume.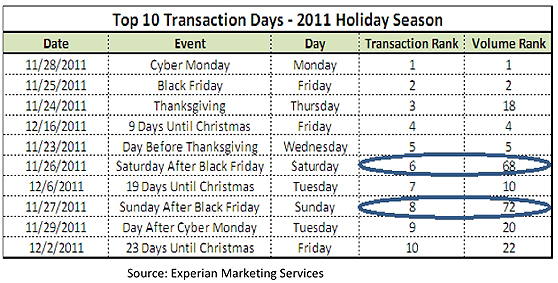 Peak days for key marketing channels sending traffic to the Retail 500 sites
Looking at key marketing channels sending traffic to the Retail 500 sites last holiday season, there were some varying trends that emerged within the different channels.
Search was sending the most traffic to the Retail 500 on Black Friday, while there was increased traffic to the retail sites on Cyber Monday from email and social.
Traffic to Retail 500 by channel and day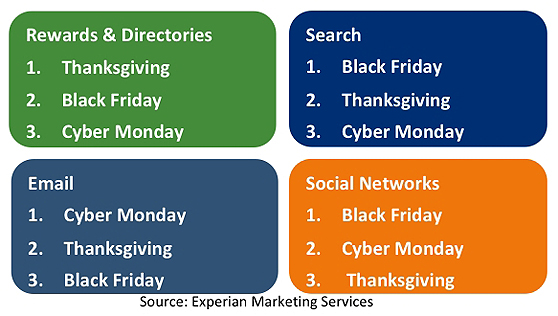 Learn more about the author, Shelley Kessler