With all of the strategic thought, testing and hard work that goes into putting an email campaign together, subject lines often get carelessly overlooked. Learning how to write subject lines might seem like an afterthought or a chore, but in reality, the whole basis of whether an email gets looked at may depend solely on a subject line.
Most marketers use subject lines to state an offer or the main message held in the email's content, however, this may not always be the best approach. Subject lines for emails that blatantly state the main message aren't necessarily the emails that garner the highest open rates.
Subject lines for emails that blatantly state the main message aren't necessarily the emails that garner the highest open rates.
Subject lines are your chance to catch the reader's attention, and ensure that your message stand out, potentially against hundreds of other emails in their inbox. It's a chance for your email to create a first impression with the reader in 50 characters or less. Yes, this can be a challenge, but if the right line is written to capture a unique voice, the outcome can be rewarding.
There are different themes that subject lines can be written in, not just to inform a reader of the content, but to draw them in so they'll want to read more. Where one brand may boast "50% Off Fall Accessories," in their subject line, another company may utilize that space to say "Get it all for fall – Exclusive savings."  The content of the email can remain the same, but creating intrigue surrounding the actual subject of the email might create an allure for readers more than something direct.
Experian CheetahMail's content and strategy team hand-chose companies with vastly different businesses and studied more than 1,000 promotional mailing subject lines over a specified period of time, with each subject line being defined and placed into one of four categories. While there is no way for anyone to ensure that readers will open an email, our thorough categorization and research has allowed us to develop best practices for subject line writing.
Knowing how to write subject lines in an effective manner involves knowing the different categories that subject lines fall into. Experian CheetahMail defined four main categories that serve as a useful framework to get a message or tone across at the reader's first glance. They are: fun, curiosity, direct and relationship. Despite the fact that these four categories are short and simple, the subcategories span many topics, both broad and specific. These subcategories can help get any tone or message across and are also useful in helping inspire new lines by getting the creative juices flowing.
So which categories work best?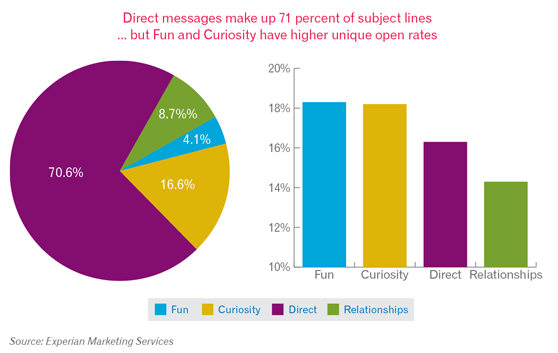 Fun and curiosity have the highest unique open rates and definitely are good choices for sparking subscribers' interest. However, they can lose some of their appeal if used all the time.
Direct messages play a key role in informing subscribers about offers, deadlines and special products. While the unique open rates for direct messages are lower than those seen in the fun and curiosity categories, in multiple past studies we have seen that offers and time limits can provide a boost in transaction rates. A 21 percent increase in transaction rates for offers in subject lines was noted in our holiday reporting and subject line analysis in 2011. Relationships subject lines allow subscribers to relate and connect to products and topics that enhance their identification with the brand and further define their overall experience. These relationships can bridge marketing channels and give subscribers a chance to interact with the brand online, on social media sites, through loyalty benefits and through special events.
To optimize response, a well-balanced email program will incorporate all of these categories, as well as incorporate continual subject line testing.
To learn more about best practices in writing subject lines for emails, and to find out about the most commonly used subject line categories vs. subject line categories with the highest open rates, download Experian CheetahMail's white paper "It's all in the wording: A guide to optimizing your email subject lines."