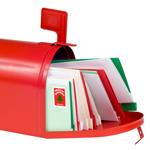 As holiday campaigns begin to kick into high gear, it's important that marketers examine their campaign strategy, including deliverability considerations.
Much has changed since last holiday season. You are probably already aware that ISPs have significantly modified their filtering processes, putting heavy weight on engagement to determine a sender's reputation and whether or not an email should get delivered to the inbox. In past holiday seasons, many marketers have often taken advantage of this time of year as a reason to "blast" more messages and promotions to its entire subscription list. While this strategy, as you could imagine, often can generate more revenue, it can now negatively impact deliverability. The truth is that deliverability rates decline during the holiday season.
The truth is that deliverability rates decline during the holiday season.
Engage early
We always encourage our clients to try to win back and re-engage inactive subscribers year round.  While re-engagement may not always be first priority on a marketer's "to-do list," having a list of highly engaged subscribers come holiday time is imperative.
During the holidays, think about the frequency in which you email your subscribers. Are your offers personalized? Are they relevant? As subscribers take more control over their inboxes, marketers must still be mindful to treat their subscribers as individuals and make their holiday messages resonate with their audience. Remember, the more relevant your messages are, the more likely a subscriber is to engage and interact.
Mailing to unengaged or disengaged subscribers can negatively impact your ability to deliver holiday messages to your best customers!
You know your customers, but ISPs don't
From an ISP's point of view, engagement is based solely upon how a subscriber interacts with your emails in that one email box. Unfortunately, ISP's don't have the data to go beyond this channel like you do. Regardless of how frequently a subscriber engages with your brand in other channels, you must ensure they are engaged in the email channel particularly.
You've got the data. Utilize what you know about your customers to ensure email engagement. Today's shoppers expect high levels of personalization and relevancy. We also encourage our clients to leverage all touchpoints and channels to connect with customers and encourage them to engage via email.
Point of sale address collection
Point of sale is always the highest risk for collecting bad addresses – especially during the holiday season. Most cashiers are extremely busy and aren't incentivized to enter accurate or even real email addresses. Thus, it is important that you utilize list hygiene services like Experian QAS, and avoid mailing to 'fake' addresses.
For more tips and strategies on collecting email addresses at point of sale, download Experian CheetahMail's white paper, Point of sale email: Managing compliance, privacy and deliverability with in-store email acquisition.
Set expectations
Set expectations with subscribers about the types of communications they will receive and how often they will receive it from you. Welcome emails are a great opportunity to communicate subscription benefits, as well as set expectations – then don't deviate from these promises. When you over-mail customers during the holidays, your messages have a higher chance of being marked as spam or customers unsubscribing – thus reducing your engagement rating with ISPs.  Just because companies like Groupon or Living Social may email their subscribers every day, does not mean that your customers are expecting the same from your brand. You must do what works best for your customers, your brand and your engagement strategy.
If you do have subscribers that may not want to engage with you as often as others, it's a good practice to offer an opt-down subscription, rather than simply an opt-out.  This gives control to the subscriber and allows them to choose frequencies and types of communications that are most relevant to them.
New rules – so now what?
Our advice is still the same as it has always been: send engaging messages that are relevant to your own customers. Be strategic with your holiday campaigns and utilize email marketing technology to treat your subscribers as individuals. Leverage the holiday season to increase engagement levels, while understanding the risks associated with mailing to inactives.
If you follow these simple guidelines, happy holidays are sure to come!
For more information about deliverability and ISP engagement filtering, download Experian CheetahMail's white paper: Three pillars of successful email deliverability.
Learn more about the author, Spencer Kollas