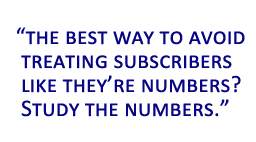 It's a very commonly asked question: when it comes to digital marketing, what are the best performance factors to measure and analyze? More specifically, what are the key performance indicators (KPIs) an email marketer should put the most stock in?
The truth is, there's no all-encompassing answer, since the answer depends on your business objectives. What goals have you set for your business? What trends can affect those goals? Generic KPIs may not fit your business — do you need something more specific? There's a lot to consider. At a minimum, KPIs should have meaning to your specific program and must be actionable. Plus, KPIs are effective only if your senior management is in alignment on the indicators.
The following are the typical core email performance metrics available.
HTML open rates – shows all opens recorded for the mailing and includes multiple opens by the same subscriber
Click to open rate – represents the percentage of unique clicks compared to the number of unique opens (unique HTML clicks / unique HTML opens)
Received rate – calculated by subtracting the bounced messages from messages sent
Unsubscribe rate – unique number of subscribers that have unsubscribed from one or more of your subscription lists as a result of the specific mailing you are viewing
Referral rate – number of unique subscribers who have forwarded your mailing using the refer-a-friend functionality
Transactions rate – total number of conversions recorded for the mailing
Which of these metrics measure program success most accurately? For programs that are developed, these three metrics paint the most complete picture:
1. Open rate – gauges the power to capture the subscriber's attention through captivating subject line interest, brand power and overall relevance
2. Click through rate – represents the subscriber's interest in the content, measuring the power of your creative to entice the subscriber to explore further into the messaging
3. Conversion rate – measures call to action effectiveness, but product desirability must be taken into consideration; you must have a product that matches the needs of the subscriber
Once your set of KPIs are determined, there should be a set of similar benchmarks to compare against. I recommend benchmarks that are industry specific, custom (similar brands) and overlay your historical performance. The historical performance by previous month and quarter provides program insights, exposes any variances and easily identifies spikes. Reports that lack benchmark data overlay are missing a huge opportunity to gauge program performance.
Below is a sample layout of a specific email program. The KPIs are listed first, followed by quarter and monthly benchmarks, then campaign performance by week. (Suggestion: a quick way to identify issues in chart form is to highlight low performance metrics — those that have performed lower than the benchmarks — in red. This visually draws attention to specific metrics.)

This is a strong start, but what if none of these KPIs applies to your program, and there's a unique conversion lifecycle?
I would recommend a data mine and analysis exercise to build a customer's profile. The objective is to identify behavior patterns from email engagement, overall conversions and site analytics. The end result should be a specific set of benchmarks that truly align and measure your business performance.
Remember, what sets you apart from your competition are your individual business goals, especially in determining the types of customers you want to attract. It's a true example of irony, but one that works in today's business age: the best way to avoid treating subscribers like they're numbers? Study the numbers.