The Olympics is the most diverse of all sporting events with over 10,500 athletes competing in 301 events across 33 different sports. Some of these Olympians are giving big brands a run for their money when it comes to Facebook fan engagement. For instance Usain Bolt currently has 7 million fans, with this figure set to rise when he hits the track later this week. However, this is dwarfed by non competing athlete David Beckham's 20million fans.
Big hitters aside how are the rest of the Olympic athletes doing in harnessing Facebook to increase fan engagement and build excitement during the games? The chart below shows how 400+ pages associated with Olympic athletes, teams and sports are performing (these are pages listed on Facebook's own Olympic page – facebook.com/pages/olympics). We have plotted the number of fans each page has against the level of engagement for the page over the last week (using Facebook's 'People Talking About This' metric – which provides a measure of number of new fans and people engaging with the page in the past week).
The tables below show the top 30 most popular posts (based on likes and comments) on the official TeamGB and US Olympic Team Facebook pages.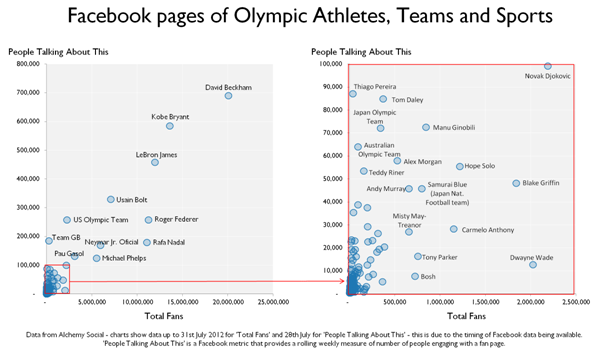 In the left hand chart we show all of these pages, and the true giants dominate the picture with many more millions of fans and hundreds of thousands more people engaging with them than the vast majority of other athletes and Olympic pages. Track athletics take second place to football stars such as Beckham (20 million fans) and Neymar Jr (6 million fans), US NBA basketball players (Kobe Bryant, LeBron James, Pau Gassol), and Tennis pros (Roger Federer, Rafa Nadal) who rank as the biggest players on Facebook. Usain Bolt has more fans than any other track athletics star (7 million fans), with swimmer Michael Phelps running a close second (5 million fans). By showing page size against the level of engagement (People Talking About This) one can immediately see where pages are receiving a disproportionate amount of engagement and excitement given the size of their fan base (i.e. those that are further up and to the left in the chart). Team GB and the US Olympic Team fan pages are both successfully creating engagement at levels above what you would normally expect for a page of their size. As we drill into the smaller pages (see the scatter chart on the right – which shows the detail for smaller pages), we also see that both the Japanese and Australian Olympic Teams – whilst smaller, are also driving engagement levels above other Fan pages of similar sizes. These national team pages appear to be hubs of conversation for fans in each country – perhaps not surprising given the number of athletes and events who do not have acitve pages themselves, or may have several, including unofficial pages which can cause confusion for even the most ardent supporter. Furthermore, most athletes have locked down the ability for fans to post stories on their pages, and instead fans interact by liking or commenting what Usain and others have to say in their posts – whereas on the Team pages, fans can generate their own posts and kick off new stories and conversations with their network. Team GB posts 15-25 times a day – and so far the double gold for rowers Helen Glover and Heather Stanning have been the most popular with 80 thousand likes per post. In contrast, the Team US posts more sparingly between 2 and 4 times per day focusing on their medal wins – with posts about Phelps's 4x200m freestyle, which made him the most decorated Olympian of all time grabbing almost 200 thousand likes.
Whilst the US Olympic team's page (2.3 million fans) is far bigger than Team GB's (373 thousand fans) – Team GB has been the most successful with these games so far (again not surprisingly being on home soil) – growing almost five fold since the beginning of July (and over three times in just the past week), and the US Olympic Team's page has grown by 8%. As we can see in the chart below, whilst GB still have a fair way to go to catch up in terms of fans, in terms of engagement (People Talking About), the GB and US team pages are neck and neck with almost quarter of a million people engaging with each page in the past week. Traffic to the official Team GB site also increased by 150 per cent in the last week
Teams aside, many athletes do manage to leverage Facebook to create and share in the excitement of their fans, and although many of the most prominent ones are outside of the track or pool – Bolt and Phelps are worldwide sensations with many millions of Facebook fans, and it will be interesting to see whether the games generate a million more fans with new audiences or whether they have reached saturation. In Great Britain, until the eve of the games Tom Daley and Jessica Ennis – two much more local stars had similarly sized fan bases of about 100 thousand fans. Tom's page has since soared to close to half a million fans, growing by almost 3 times in the past week, and the level of engagement is greater than many of the biggest athletes on Facebook.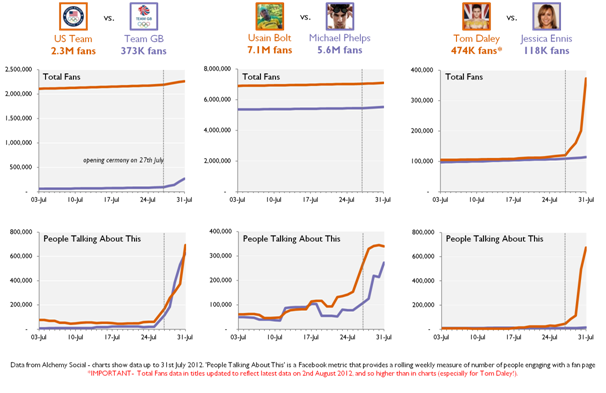 Tom regularly updates his Facebook status via his mobile in the run up to and following events – posting every day during July. When Daley and teammate Pete Waterfield missed out on their synchronised medal, he quickly posted to Facebook as to being "#gutted so sorry to everyone" – generating 120 thousand likes and 10 thousand comments from fans – mostly expressing their pride and wishing him luck for his individual event (see word cloud below of top words in the comments appearing on that post). His strong fan base also rallied with 170 thousand likes when he posted back in May for a fundraising night in memory of his late father. When we cut this with Experian Hitwise data we see that during the past weekend Tom Daley was the most searched for athlete by the UK internet population and searches for him tripled between Sunday and Monday. On Monday in particular Tom Daley featured in 1 in every 300 UK internet searches with 7% of searches including the word 'twitter'. Finally 1 in every 17 searches for Twitter included the words 'tom daley'.
In contrast, the history making Phelps has a much more laid back approach to Facebook, posting every couple of days in the run up to the games – he hasn't yet updated his profile since the opening weekend of the games – presumably too busy on Twitter and competing – when he posted a congratulations to Ryan Lochte on his performance and was self deprecating about his own performance, garnering a good but by no means legendary 100+ thousand likes. UK online searches did increase by 467% for Phelps at the back end of last week.
We will be watching how engagement on Facebook evolves over the coming weeks and whether national team and sports pages and others manage to retain engagement once the games are over.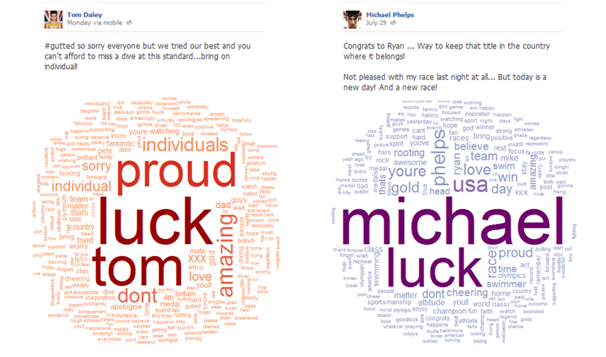 NOTE ON DATA IN CHARTS: There are some variations between data presented in the charts due to variations in timing of when Facebook data is available for different metrics – and in some cases we have updated live data from pages to provide the most up to date view.