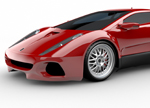 I confess… I'm a nut for performance cars. And, I've been following a car line from an international manufacturer for some time, awaiting its arrival in the U.S. I have watched the introduction at the Los Angeles auto show on YouTube over and over, not to mention the Super Bowl commercial about the car. Of course, I am a fan on Facebook too. I ordered my own car on the very first possible order date for the U.S. release. And now, I am breathlessly awaiting its arrival in 14 days.
So as you can imagine, I was delighted to get an email, which I assumed was part of a special communication, congratulating me on my purchase and welcoming me to the car manufacturer's community of discerning drivers. But instead the email was actually an invitation to participate in a sweepstakes to win a day at the track for a competition among five teams—you just had to pick the winning team to enter. So, as a former Skip Barbour driving school graduate, I was thrilled. That is, I was thrilled until the link didn't work. It didn't work even after four tries and I got no response from the numerous emails that I sent to the manufacturer.
And worst of all, the team I had picked won.
I certainly don't feel special now. This manufacturer is a great auto maker and I know that I will love my car, but a car that good deserves a better social media campaign!
The lessons:
The primary objective of a retailer is to acquire, SATISFY and retain customers, profitably
Marketers MUST link their customers to their prospect lists so that they can treat their customers uniquely and ALWAYS recognize them
A great offer REQUIRES superior execution
Marketers must communicate with their customers in a SEAMLESS, consistent way that earns trust, is relevant and drives trips to the stores, website, call center, etc.
A wonderful product's aura can be tarnished by not paying attention to the basics. Today sophisticated technologies let you link your customers and prospects by email across social media, and ensure you always have the basics covered.
Quite simply, missing and incomplete customer identity data diminishes response and the ability to drive customer relationships. Solutions exist today that enable marketers to identify a customer with a single piece of personally identifiable information (PII), such as an email address, and then match it to the person's physical address, alternate emails, social, mobile and even cookie data. This cross-channel identity resolution helps marketers to better understand customer preferences, as well as gain a better understanding of the efficacy of their marketing budget. Layer this on a solid loyalty program, and marketers will ensure they know all available touch points for a customer and can leverage those touch points to communicate the right message at the right time.
For more information about cross-channel identity resolution, download a copy of The 2012 Digital Marketer Report.