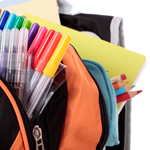 I'm struck by how much earlier retailers are starting their back-to-school campaigns this year. We polled a cross-section of marketers during one of our recent webinars and found that 27% of attendees were starting their marketing activities in May and 22% in June. Having said that, most email marketers wait until August to unleash campaigns, with 70% going out that month in 2011 – a hefty 25% increase of August 2010.
It seems those marketers are on to something — we're seeing that mailings in the first half of August garner the most revenue. Why the first half of August? Success could be related to a number of factors, including:
When the first day of school is after Labor Day, families may choose to get their shopping done before their end-of-summer vacations.
When school starts in August, shopping may be driven by peer-group influence — children see what peers are wearing and ask their parents for similar items.
This information can be used to drive your messages and offers.
There are 55 million school kids out there and even more parents with wallets at the ready.
There are 55 million school kids out there and even more parents with wallets at the ready. We've been thinking about how to reach these plumb shoppers and will cover a variety of marketing strategies and tactics during a webinar on Tuesday, May 15 at 1:00 p.m. EST. Here are a few of the questions our subject matter experts will answer:
Who are my key targets and how can I differentiate my marketing message?
How should my marketing budget be allocated across multiple online and offline channels?
What can I do to make my message stand out above the crowd?
What variety of offers and promotions will enable me to capture a significant share of back-to-school expenditures?
Visit the Back-to-School Homeroom to register and to download an email-focused white paper.