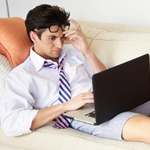 A new Mosaic® USA segment called Fast Track Couples consists of young couples and families already on the road to upward mobility. Although 90% are under the age of 35, most are married, work at good jobs and own their homes. About one-third of Fast Track Couples have already started families.
The best way for marketers to reach Fast Track Couples is through the Internet, as few demographic segments spend more time in cyberspace. Fast Track Couples:
Are highly receptive to digital advertising via online search and sponsored links
Use the internet to manage their financial affairs, make travel arrangements and check out new job, car and home listings
Use the internet as their chief form of entertainment, downloading music, listening to internet-only radio stations, watching videos and sharing digital photographs
Are very comfortable telecommuting and shopping online
Having grown up with communication on demand, Fast Track Couples bounce seamlessly between cell  phone, laptop and wireless connections. Although they don't really like email ads, they do respond to sponsored websites and links — especially when doing product comparisons. They like shopping for games and software to improve their online experience, and in a list of popular websites, it's difficult to find any that Fast Track Couples don't visit, including Facebook, YouTube, Wikipedia, Best Buy and eBay.
Get more facts about Fast Track Couples and all of the "New American Consumer" Mosaic® USA segments in our 2012 Digital Marketing Report.