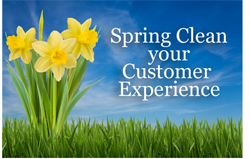 Last month, Yahoo! encouraged customers to de-clutter and "Spring Clean" their inboxes by getting a new Yahoo! email account. Email spring cleaning shouldn't be limited to a consumer's inbox; it's also a great opportunity for marketers to clean up their email files. According to Fresh Address, 30% of subscribers change their email addresses annually or become inactive. Sending to inactive addresses may negatively impact your reputation, and ultimately deliverability of your email. So, to optimize your inbox placement rate, we recommend that you spring clean your marketing list.
To start, CheetahMail's Deliverability and Strategic Services teams recommend that you define the level of engagement of your customers that represent the inactive on your subscriber file and separate these into levels of inactivity. We also recommend considering additional segmentation of these inactive groups (no opens and no clicks; opens and no clicks) identified within the past 12 months based on a variety of factors such as the data source, the subscriber's tenure, or transaction information.
Our Deliverability and Strategic Services teams emphasize the importance of testing and suggest developing a reactivation series, including ending the series with a reconfirmation email, to test the reaction to different factors (price, exclusive service, different channels, etc.) for the group of contacts who have opened but not clicked. In parallel, for the group without any opens or clicks we recommend sending a series of up to 4-6 reconfirmation emails (opt in permission pass), up to one per week, for the duration of the spring cleaning initiative.
For the subscribers who open or click, but don't confirm, silo them separately and continue trying to reactivate, but at a reduced frequency. Anyone who reconfirms can be bucketed back into the active segment of your file with a specific communication stream to immerse them back in your flow. The outliers that didn't reconfirm or re-engage through this series should be removed from your mailings. Of course, we always recommend to continue business as usual with a control group to measure the impact on your email program.
This spring cleaning of your file will help you establish a clean sending reputation, and optimal deliverability with the ISPs.