As part of our 2012 Digital Marketer report we looked at a lot of social data from advertising and upcoming networks, to the people who use social media and how often. Here's a sneak peek:
Marketers have been using social data in the form of ratings, reviews and check-ins for some time. While that data helps enhance the on-site user experience, most of the insights are locked away in the platforms of the vendors who provide those services. What's unique about Facebook is the vast amount of customer data in the network can be accessed by marketers, if they choose to ask for it, using one of a number of social plug-ins. The now ubiquitous Facebook like button for sharing and the more valuable Facebook Connect single sign-on plug-in offer marketers a source of rich customer data.
The key to accessing this customer data on Facebook is the request for permission opt-in authorization process of Facebook Connect. This Facebook Connect button can be placed on a Facebook Fan Page, in an application or on a Website, and establishes permission to access some or all of the data that is associated with a Facebook user's account.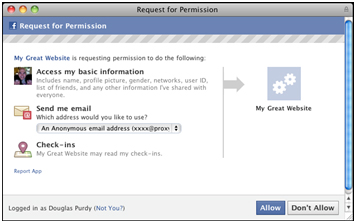 The types of data that can be accessed once authorization is given falls into three categories:
Basic information

Users' demographics: age, gender, current location, hometown location, email address
User interests: full list of pages they like on Facebook

Relationship information

User profile: education history, work history including current and past employers
Friends: how many friends a user has, their ages, mix by male/female
Friends' profiles: the most popular employers, levels of education amongst the users' friends

Activity information

User influence and Facebook activity: how active the user is on Facebook, how many times they post to their wall, how many comments and likes they typically get when they post to Facebook, the percentage of their Friends who regularly interact with them
For more great marketing data, trends and benchmarks, click here and pre-order the 2012 Digital Marketer report. You'll be the first to get it this April. Also, be sure to check back weekly for more valuable insights.