The Super Bowl 46 showdown between the New York Giants and the New England Patriots is less than a week away and consumers are going online to seek out game day details, catch up on Super Bowl-related current events, plan parties and find merchandise.
An analysis of the top 25 search terms containing "Superbowl" or "Super bowl" in the week ending January 28, 2012 reveals five variations around the date and time of the game, four variations of party planning and recipes (in fact, "Super bowl party games" was the top paid term on the list), along with two searches on "tickets". Celebrity multi-million dollar bets also made the list of top 15 search terms for the game, specifically "Lil Wayne 5 million Super Bowl bet" and "Birdman Superbowl bet". These searches refer to a tweet by hip-hop artist Birdman (whose rap mentor is Lil Wayne) wherein he announced his intentions to bet $5 million dollars on a New England Patriots win.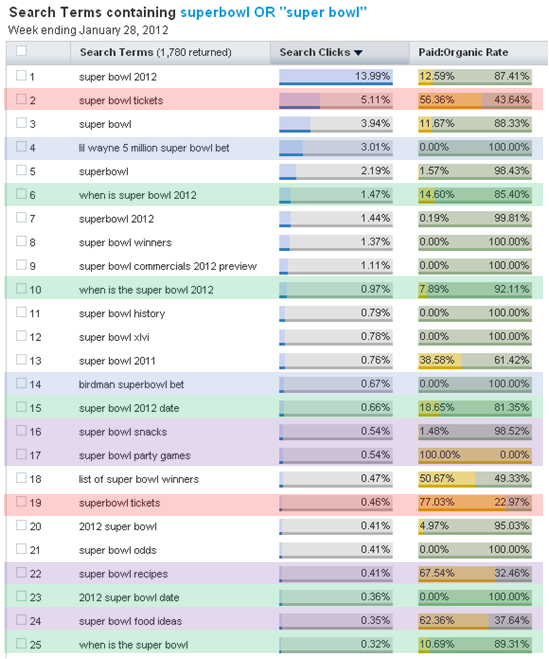 Among the search terms with the highest year-over-year growth for the week before the Super Bowl, two variations included adding 2012 for the most recent information. Searches around super bowl food ideas, squares (for the office & party Super Bowl pools) and ads also increased significantly from the same week last year.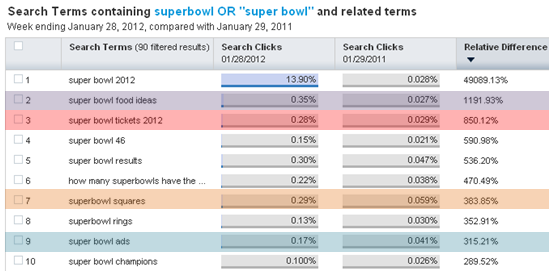 Online consumers are also searching for championship jerseys for both teams and quarterbacks. Search term variations for "Patriots jersey" increased more than 5 times week over week while corresponding search variations for "Giants Jersey" were up only 260% during the same time period. In a showdown between quarterbacks, search variations for "Tom Brady jersey" increased 33% as compared with the previous week while the variations on "Eli Manning jersey" were flat.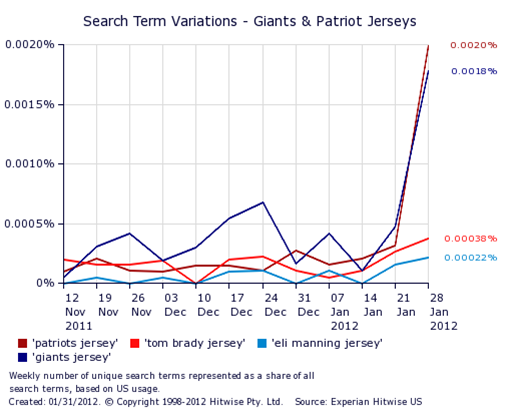 Thanks to Lauren Rice, Analyst with the Strategic Services team for today's analysis.