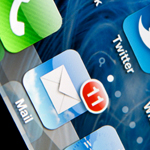 Experian Marketing Services is compiling data, trends and benchmarks to share with marketers in the upcoming 2012 Digital Marketer. Here's a preview of the kinds of email marketing stats and tips you can expect in the report.
Fifty-two percent of consumers access email via their smartphones. Given that this number is growing rapidly, and that most consumers are no longer willing to tolerate emails that don't display properly on mobile devices, designing your emails to be "smarter" for mobile can go a long way.
Audience – Some email analytics tools, like CheetahMobile's Litmus, can provide a report summarizing your mobile audience by device. Based on this report you can strategize how to target and cater towards these users.
 Design– When designing for mobile the most important factor to keep in mind is how your standard email will view once it's been reduced down by half. Consider the following mobile best practices:

Simplified navigation and larger text size to increase the usability of the email on a mobile device
Single column layout for easy scrolling
Size and positioning of all your calls-to-action

 iPhone – Media Query (MQ) is one option to optimize your emails for mobile when your audience consists primarily of iPhone users. This is a CSS code that outlines specific parameters to either resize or hide certain areas of your email. Designing with MQ in mind will allow you to take one single template that is optimized when viewed within the iPhone email application.
Check back weekly for more insight from the 2012 Digital Marketer, to be released in March. Click here to pre-order the report, and follow the conversation on Twitter at #EMS2012.