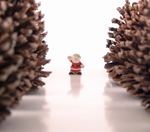 As we wave goodbye to another holiday season, email marketers can be optimistic that 2012 will be another year of email-generated revenue and digital marketing cheer. Analysts at Experian CheetahMail took a snapshot of the season to put the very busy (yet very rewarding) term into perspective, comparing it to the 2010 holidays.
Findings include:
There was a 4.4% increase in average order values
Email volume rose by 19%
Unique open rates remained quite positive for most verticals (which may be a result of more marketers optimizing subject lines).
As in 2010, 26% of subject lines featured an offer this Holiday Season.
Dollar ($) offers were the most popular this season (seen in 29% of subject lines), sneaking past last year's leader of percent (%) off campaigns (seen in 28% of subject lines).
Personalization in subject lines increased (31% overall), particularly in the last half of the season.
Happy mailing in 2012!
Experian CheetahMail tracks the holiday mailing activity of 385 brands that also mailed in the 2010 Holiday Season. All metrics are based on results 3 days from send.