In 2012 the core mission of marketing remains the same as last year: to Connect with Customers. But much continues to shift. Media consumption is fragmented, so marketers must chase consumers across multiple channels utilizing campaigns that can be difficult to integrate. Investing in platforms to aggregate audiences helps but reaching across traditional, digital, mobile and social channels in an integrated way is challenging.
"Don't waste my time" is the mantra because we are busier than ever…
In addition to being harder to find, today's consumers are more demanding of their brands. They expect brands to listen, interact, behave well and most critically, be relevant. "Don't waste my time" is the mantra because we are busier than ever, have more choices than ever, and get bombarded with more messages than we can possibly make sense of. A typical path in the customer's journey helps illustrate the challenges of cross-channel, or multiple touch-point marketing. Effective marketing strategies must connect many dots in order to lift sales. Each stage of the customer's path to purchase requires a different tactic to plan, manage and execute.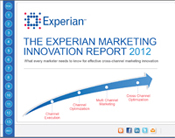 To read an in-depth analysis of what marketers need to do from a marketing technology standpoint this year, download The Experian Marketing Innovation Report 2012.