Every day, Experian Hitwise clients discover new trends and opportunities from our timely, insightful online consumer behavior database. We are happy to share these insights by having clients post their findings on this blog and today present analysis on the luxury retail market from PM Digital Research.
Despite ongoing volatility in the stock market and global economies, consumers are once again paying for luxury items, even as some brands raise prices. Some 2011 forecasts indicate that global sales of luxury goods will grow 8% or more this year.
To better assess this renewed interest and activity for luxury brands, PM Digital recently released Trend Report: Luxury Brands Online. Leveraging data sourced from Experian Hitwise, as well as independent work undertaken by PM Digital Research, our latest study shows a shifting landscape as luxury e-commerce growth continues.
Below are a few highlights from the 2011 study:
– The ten largest luxury brands captured almost 90% online market share, based on total visits to 42 luxury brand sites studied for the report. These include iconic brands Louis Vuitton, Ralph Lauren, and Gucci, which attract a wide audience of aspirational Internet browsers as well as core buyers.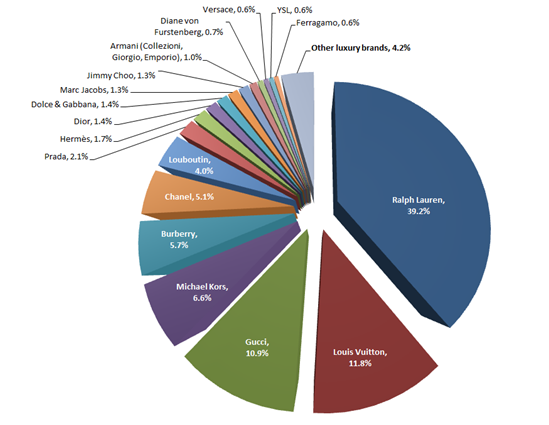 – Most luxury brand websites support e-commerce, and online traffic favors them. Only 19% (1 in 5) of the luxury brands studied do not have online stores; they get just 2% of total visits.
– Search engines dominate as a source of traffic to luxury brand sites, accounting for one-third of all referrals. The second largest source of traffic comes from shopping sites (e.g. department store sites). There is very little cross-visiting from other luxury brands (just 2%) indicating a critical loyalty at the individual brand level.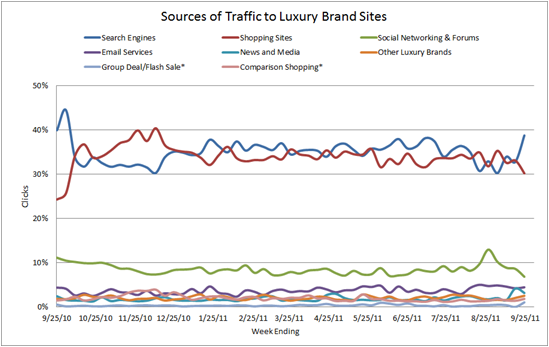 – Luxury brands saw a larger share of visits from search (31%) than Apparel & Accessories sites in general (27%), but with a smaller paid search ratio. Organic traffic dominates, and some luxury brands still have no paid search strategies. Hermès and Ralph Lauren are notable exceptions (both are 55% paid).
– Shoes, handbags and accessories are driving more search clicks for luxury brands than apparel. Shirts are the top clothing keyword (driven by Ralph Lauren's many clicks from polo shirts), followed by dresses.
– Social media accounts for nearly 10% of traffic to the luxury category. Facebook is the most significant player, with its share ranging from 4% to 10%. Facebook "like" counts for luxury brands have seen tremendous growth over the past year, with most brands more than doubling. Dior "likes" grew over 1,000%.
Overall, the study finds that successful luxury brands are striving to provide consumers with a consistent brand image across channels. Supported by engaging content, video and events, luxury brands can capture a real-time experience, unlike that of offline media, and drive sales demand within a consumer's shopping event.
To download a complete copy of the 2011 Trend Report for Luxury Brands Online, click here.