Five "quick" steps marketers should consider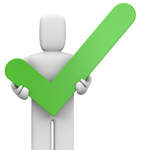 For cross-channel retailers, maximizing returns from marketing investments demands incorporating fulfillment strategies as part of the overall effort. As products, offers and campaigns are increasingly linked across media, providing a good customer experience (while simultaneously facilitiating transactions), helps build customer loyalty.  Here are five simple steps to consider:
Don't work against yourself by omitting details such as where to find your product. If your product is listed as being available "at fine stores," identify which "fine stores" carry your product. Think about including a model number of the product being featured for ease of locating it. And at a minimum, include your website or a phone number. Forcing potential customers to search for where to purchase your product isn't doing you any favors.
Add information tags to advertisements, product packaging and your website (like those similar to Microsoft's Tag Reader ). These will automatically open a webpage when accessed by customers.
Closely monitor and engage in digital and social media interactions – this will provide site visitors with the ability to instantly find additional information about products (e.g., ratings and reviews) while allowing you to step in to take corrective action before something becomes a problem.
Video efforts can also benefit from using a noninvasive text-over that provides additional information about a product or purchase location.
Implement tailored landing pages and personal URLs (pURLs) for advertised products. This can be set up to provide shoppers with a list of stores within a given distance, and the information can also be emailed or sent to their mobile phone from this page.
The fulfillment channel is the last hurdle retailers encounter in a transaction, and it's one that can have a big impact on future sales. Incorporating a few simple activities can improve the shopping experience while reducing friction. Investments have been made in all channels to reach a target audience; finishing strong in the last mile will provide substantial returns on your marketing campaign investments.