With retailers extending deals even sooner during the Thanksgiving holiday week, Peak Week took on even greater importance as online stores saw tremendous success across online traffic and email transactional activity for Thanksgiving Day, Black Friday and Cyber Monday. Here is at look at the 2011 data.
Online traffic to the top 500 retail sites for Peak Week 2011 increased 9% compared to Peak Week 2010. One trend that emerged from this past week is that Thanksgiving could become the Black Friday of online retail. Numerous retailers extended their Black Friday deals online early in the week and several major retailers opened their stores on Thanksgiving Day in an effort to attract budget-minded holiday shoppers. The bet paid off.
Thanksgiving Day was once again the busiest day during Peak Week among retail sites as online visits increased 9% compared to 2010 with more than 173 million total US visits. Thanksgiving Day provides a captive audience for retailers as our data has shown in the past and this year retailers took advantage. We previously noted that Black Friday ended Thanksgiving Day's five-year reign as the number one day for visits to retail sites. The takeaway from this is simple – consumers are accustomed to shopping online from home and finding the best deal possible whether that means shopping at midnight on Thanksgiving or just researching online. Expect retailers to extend deals the same way next year and for other major holiday sales going forward.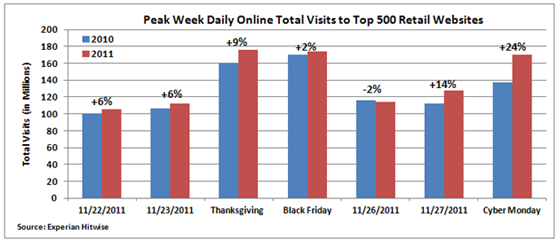 The same online trend held true for email activity too, as Peak Week email volume increased 30% in 2011 vs. 2010. The total email transactions increased 26% year-over-year and total revenue from email increased 27%. The eye-catching stat from the chart below is the 61% growth in email volume on Thanksgiving Day. All the days during Peak Week had double-digit volume gains and nearly the same was true for both transaction and revenue. We talked about this in our previous post as Thanksgiving Day ranked #6 in transactions for the 2010 holiday season and #49 for volume. That represented a huge opportunity that retailers clearly pounced on. The same was true for Black Friday, as that day ranked #2 in transactions in 2010, yet #22 for volume. In 2011, email volume increased 31% on Black Friday.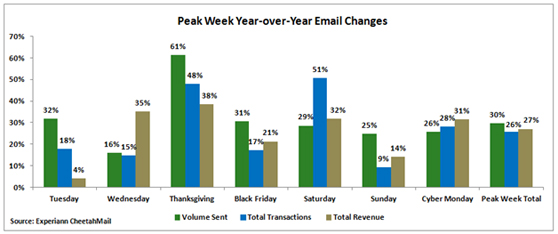 How does email work with Internet traffic when it comes to big retail weeks like Peak Week? More than 8% of all email traffic during Peak Week 2011 went to the top 500 retail sites presenting a relative increase of 11% compared to 2010. The importance of this data is that it underscores how marketers can't discount email campaigns when it comes to major retail holidays in order to drive sales. This was evidenced by the 30% increase in overall email volume for Peak Week this year.

The shopping behavior displayed this year shows that consumers are more deal-hungry than ever and retailers responded in kind, creating an opportunity for higher transactions. So Peak Week lived up to its name this year and it will be interesting to see how consumer behavior changes as we get deeper into the holiday season.
Learn more about the author, Matt Tatham