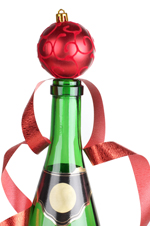 As the push for last minute sales drove volumes higher, email volume surged 34 percent from Dec 21 to Dec 31 last year. Looking at trends for 2011 thus far, Experian CheetahMail is predicting this increase to be even higher.
As featured in a new white paper: The Happy Holiday Inbox: Last minute tips for spreading the cheer with email this year, the biggest trends include:
Mobile and social galore: Links to social networks and mobile viewing are amplifying email marketing promotions. Fifteen percent of email openers read emails on a mobile phone, and that number is growing. Additionally, forty percent of online consumers who use social networking sites plan to use Facebook for feedback from family/friends to help make a decision about a product, according to a survey by PriceGrabber.com.
Touting and shouting shipping deadlines: Including deadlines to provide urgency, and directions that encourage customers to act fast, is more prevalent than ever.  An analysis of last season's campaigns confirms that on average, shipping deadlines improve email transaction performance by 22 percent.
Creativity shines: The 2011 holiday season is showcasing some of the trendiest and most appealing looks email has ever sported.   And it's no wonder – compared to email campaigns without animated gifs, ninety percent have significantly higher transaction rates (60 percent) and 118 percent more revenue per email than the campaigns without the animation.
To learn more, download the white paper today.