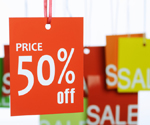 Through week 7 of this holiday season, the percentage of campaigns offering 10% and 20% have decreased, while those offering 30% and 50% off are on the rise in comparison to 2010, according to the latest analysis by Experian CheetahMail.
Interestingly, 'Buy One Get One' (BOGO) offers are generating lower transaction rates and revenue per email  than 25% or 50% off campaigns. Are consumers more drawn to 25% and 50% off offers –which essentially are the same thing as BOGO half-off (25%) and BOGO free (50%)?  It sure seems that way!
If you are an email marketing considering a BOGO offer this holiday season, I'd recommend testing both types of offers in your subject lines to see what works best for you.
Happy mailing!