For the first seven years of studying online holiday shopping behavior, Experian Hitwise has been accurate in predicting the peak day for online traffic to retail sites. Here's a look at what we've seen historically and what we're predicting this year.  
In the last two years we've seen Black Friday end Thanksgiving Day's five-year reign as the number one day for visits to retail sites. Thanksgiving Day visits were assumed to beresearch-driven—comprised of consumers looking for the best brick-and-mortar deals so consumers knew where to go as they hit the pavement on Black Friday.  Online pure plays caught on to this phenomenon and began competing for Black Friday transactions. This, coupled with the increasing ease of online shopping overall, is assumed as the reason for Black Friday's rise to number one. 
As we look at the current 2011 holiday season, data analysis shows that the week leading up to Black Friday and Cyber Monday is absolutely critical for retailers. We've dubbed this time frame "Peak Week"—it begins the Tuesday before Thanksgiving Day and ends on Cyber Monday. Peak Week sees tremendous traffic and transactional activity with Thanksgiving Day, Black Friday and Cyber Monday. Plus other days within the week are popping up as new opportunities for marketers.  
Last year during Peak Week online traffic to the top 500 retail sites increased 5% over 2009.
Thanksgiving Day traffic increased 9%, Black Friday traffic increased 13% and Cyber Monday traffic increased 16% for the same time period. In fact, analysis of November traffic over the last several years shows that the days leading up to Thanksgiving Day have had a steady ramp in online traffic to retail sites.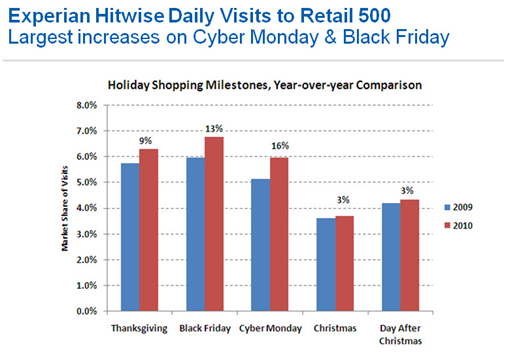 At first we made the assumption that online traffic during "Peak Week" was researched-driven just as Thanksgiving Day traffic had been from 2004-2008. Our latest data from Experian CheetahMail, however, paints a very different picture.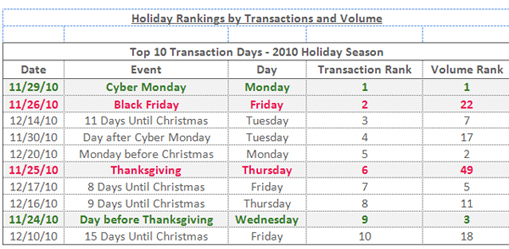 Overall Peak Week email volume increased 26% in 2010 over 2009. When comparing email campaign transaction rates versus the volume of emails sent during the holiday season, four days during Peak Week appear in the top ten for highest transaction rate. 
What's interesting about the Experian CheetahMail table above is that some of the days with the highest transaction rates rank lower in terms of actual volume. Black Friday, for example, ranks #2 in transactions, yet #22 for volume; and Thanksgiving Day ranks #6 in transactions, yet #49 for volume.
The key takeaway here is that these shopping behaviors create an opportunity for marketers to take advantage of high transaction days and not leave money on the table during Peak Week.
Learn more about the author, Matt Tatham