The holidays are the perfect time to be more aggressive in your customer prospecting and reactivation direct mail activities. Simple strategies like those below can go a long way to making your holiday direct mail results brighter.
–Reactivate old customers – The holidays are a great time to reach out to inactive customers.  To improve the performance of your reactivation efforts, ensure that your old customers are still at the same address by using an external verification service. Our clients have seen a 40% lift in response from a verified name and address versus a non-verified one.  And during the holidays, the lift in performance may even be greater.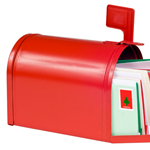 –Use NCOALink® – Run NCOALink on your house records as part of the processing for every holiday mail campaign vs. monthly or even less frequently.  For each week since NCOALink has been run, .2% (or almost 1% per month) of your customers have moved, and mailing to a person's old address dramatically reduces response. Testing shows that if you mail to an old address the response rate is 75% less than if you mailed to the right person at the right address.
–Maximize response and performance – Use proprietary change of address tools from a service provider to get the most updated address for the targeted people on your mailing list. These proprietary Change Of Address (COA) tools can identify changes of address for some of the 22%+ of movers who do not file a change of address form with the USPS®.
–Mail those who have responded to you in the last 12 months, even if the addresses have deliverability issues – Make sure in your zeal to identify and drop records with potential deliverability problems that you don't drop those where ROI is above break even. Interestingly, testing has repeatedly shown that the performance of 0-to-12 month responder records with deliverability issues perform well above break-even. This is even truer during the holidays when the delivery of mail is at its best.
-Include "Or Current Resident" when your offer is more generic (catalogs, for example) – This makes sense over the holidays because despite a dramatically reduced response rate, your piece will get delivered to someone as opposed to being thrown out – and since more people are shopping you have the potential to get some response.
–Target the right people – Use tested and validated models on both your customer and prospect mailings. Incorporate the depth and breadth of external data to create stronger models.  And prospect models are much more effective when done at an individual/household level versus a ZIP™ level.