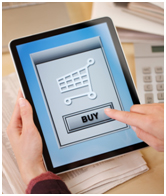 "But soft, what light through yonder window breaks? It is the east, and The Tablet is the sun." With apologies to Shakespeare, I think it's time to stop worrying about the double-dip recession, the Euro and the rest.  It's time for retailers to look at a bright spot in the numbers and read it as a sign of a bright future ahead. Many retailers are reporting 50% to 100% higher conversion rates by tablet users over PC users, and this is just the beginning.
Tablet sales are enjoying their "hockey stick" moment.  Sales of iPads alone are estimated to be over 8 million units this year.  By next year, the market adoption of tablet devices in the US is expected to reach 13% of households (source: eMarketer).
What does the consumer adoption of tablets mean to retailers?  The peculiarity of the tablet platform blurs many distinctions, and makes it hard to figure out.  Tablets belong both to the mobile category and the laptop category, where they have taken a bite out of PC sales.  Tablets can be likened to the relaxed browsing of a magazine, newspaper or book, but they are also likened to the task-orientation of a shopping cart.
the rich imagery, tactile response, and immersive nature of tablet browsing support novel ways to engage, inspire and interact with shoppers
Whatever the big picture, initial reports consistently show great promise for retailers.  I spoke recently with a leading multi-channel retailer who noted simply, "The tablet is basically a shopping device."  This luxury home furnishings retailer aims to deliver a distinctive experience across channels – in store, on the web, and now on the tablet.  They have found that the rich imagery, tactile response, and immersive nature of tablet browsing support novel ways to engage, inspire and interact with shoppers.
The tablet is attractive to both the consumer and retailer.  Consumers experience the tablet in one of two modes: 1) window shopping without the hurry or the hassle, and 2) impulse buying to find what you need and get it fast. Retailers are tapping into the powerful capabilities of this new platform with applications that extend the customer experience across channels (print catalog, store, mobile, and web).
Typing is easy on the tablet unlike smartphones, so it readily supports applications with social features like "send to a friend" or post with a comment on Facebook.  Moreover, the wide screen and built-in camera provide a great canvas for application designers to make the catalog experience varied, appealing and useful.  Using the tablet with family, I noticed another interesting aspect of tablets: sitting together on a couch, tablets allow "exploring together" that is unique to this digital medium (reminiscent of sharing a photo album).
Altogether the tablet is a boon for retailers.  According to Forrester Research, tablets have a 4-5% conversion rate compared to PC's having only a 3% conversion rate. Partly this is because tablet users are more affluent and tech-savvy.  Nonetheless, as tablets move into the mainstream, their benefits will only multiply as retailers further explore their uniqueness.
Today there are still unanswered questions: Should we build a browser app, or a native app?  Should we launch without creating videos first?  Is this a platform for driving store traffic, and so do we need to offer discounts?
With another holiday season already upon us, retailers shouldn't wait for answers to these and other questions that can only come from experimentation in this new channel.  This is the year to climb on board, because one thing is clear: Tablets are here to stay.  Behold fair maiden, your shining cross-channel knight has arrived!
About the Author
Andy is a digital marketing strategist with Experian Marketing Services.  He brings 25 years of experience in product innovation, ecommerce, business intelligence, and sales enablement to the challenges of marketing in the age of the digital consumer.  His areas of interest include tablet shopping, personalization, mobile apps, and loyalty marketing.
Twitter: @anindaroy
LinkedIn: http://www.linkedin.com/in/anindaroy