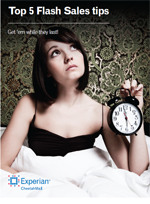 Get em while they last! The number of Flash Sale and Daily Deal emails have more than doubled in the first two weeks of this season compared to the same time period last year, according to Experian CheetahMail.
Why is this? Well – they work!  And, people still can't get enough. While recent industry buzz does point to the slight erosion of the Flash Sale tactic as time goes on, they're still giving retailers a bang for their buck.  So, email marketers, here is one of my early gifts for you – Flash Sale a tip list, straight from a recent analysis by CheetahMail's in-house experts:
If you can't test sending a Flash Sale later in the day, test sending a reminder to those that opened and clicked but did not convert. The lack of inbox competition for the customer's attention later in the day offers email marketers an opportunity to optimize Flash Sale campaigns to improve ROI.
Create a sense of urgency by clearly mentioning the discount, as well as the time limit of the discount, in the subject line.
If your goal is purely engagement, or re-engagement, shorter Flash Sales can be more effective.
The best Flash Sales have some combination of strong offers (50% to 70% off) and a selection of desirable products.
Regardless of your industry, Flash Sales can be a great tool — for retailers to push more holiday inventory, for hotels to drive holiday vacation bookings in specific regions, for restaurants to drive traffic on typically slow times of day, and so on.