In Experian's July Consumer Expectation Index, we noted consumers' overall view of the economy was one of cautious optimism. Recent media headlines have painted a bleaker picture, as consumer confidence remains low in September. This guarded outlook presents a challenge for marketers heading into this holiday season; timing and targeting will be more important than ever.
Despite the negative outlook, online visits to the top 500 retail sites are up 17% comparing last week to the same week in 2010. Not surprisingly, when economic times are good, visits to the top 500 retail sites are up. And when times are tough, visits also go up as consumers become more engaged in researching potential purchases online to stretch their dollar as much as possible.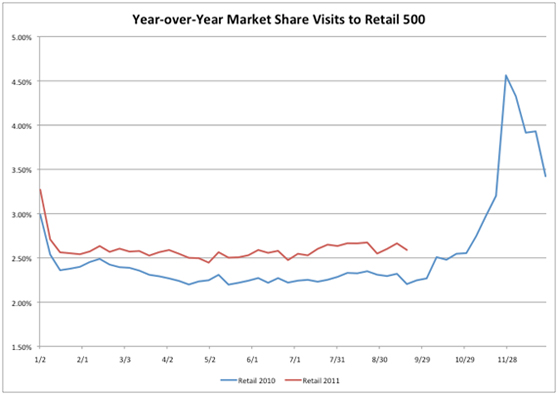 Source: Experian Hitwise
As a result, two retailing trends have developed post-recession that define the landscape—retailers extending key purchasing opportunities and savvy consumers searching for deals or discounts. The latter behavior is evidenced by searches around Black Friday deals beginning to ramp up as early as mid-October and measurable searches on the term are starting to appear as early as mid-late September. These searches have started earlier and earlier for the last three years.
As marketers, understanding this new American consumer behavior is important. We recently launched new Mosaic segments  to help target audiences more effectively by going beyond traditional demographics.  Our latest segmentation includes one named "Boomers and Boomerangs," consisting of Boomers who share a household with their adult children. This segment represents one of the most active deal-seekers.  Being able to employ this type of data will help marketers in understanding a customer's triggers.
One way marketers have responded to this new consumer behavior is evidenced by deeper discount offers being made within email campaigns throughout the holiday season. In email offers, 30% off is the new 20% off.  As illustrated in the chart below, in 2009, 20% off was the most prolific of the percent discounts during the holidays. In 2010, we saw 30% take the place of the 20% off discount. Deeper discounts – of 50% or higher – also increased last year. This trend of higher offers should continue this season and start even sooner.  Email marketers relied on heavy end-of-season discounts in 2010.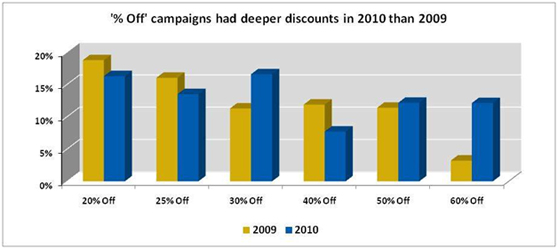 Source: Experian CheetahMail
The takeaway is that consumers have become more confident in their ability to find deals over the years. Marketers have countered by starting the holiday promotion cycle sooner and extending further into January.  These trends will continue so timing and targeting are again critical to achieving better results. Experian Marketing Services will be posting trends and tips throughout the 2011 holiday season on our blog so make sure to visit our site to find new ways to reach your audience and better understand consumer behavior.
If you missed our recent webinar further detailing the above trends, you can watch it here.