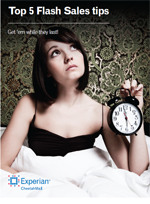 At Experian CheetahMail, we recently conducted an analysis on flash sale email campaigns, and found out some pretty compelling stuff!
The study indicates that flash sale emails have more than 2x the increase in transaction rates compared to other offers. They are not 'just another promotion,' they perform better.
Email is a key traffic driver for advertising flash sales. It represents 18 percent of the referrals to flash sales websites — higher than social (13 percent) and search (11 percent). Some of the other discoveries include:
A couple hours is all you really need: Three hour flash sales have the best transaction-to-click rates, which are 59 percent higher, as well as the highest transaction rates (.14%).
Flash sales tend to perform better in the evening: Transaction rates are 23% higher for evening flash sales compared to lunchtime sales, and revenue per email is 30% higher in the evening.
There are tried and true best practices: If you can't test sending a flash sale later in the day, test sending a reminder to those that opened and clicked but did not convert.
What I found most interesting was how well evening flash sales perform. Maybe people are working more and shopping online less during the day than some friends of mine…
Click here to learn more.