Mobile phones are now in the hands of 91 percent of American adults – up from 72 percent in 2009 – according to a new report from Experian Simmons. While some still use their phone as a means of communicating the "old fashioned" way, there is a significant shift in activities performed on mobile phones – especially with smartphone owners.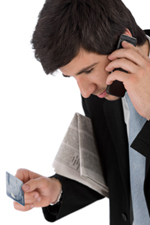 As smart phone adoption grows, activities not possible in recent history will continue to become the norm. Ten percent of the American population has performed a shopping-related activity including researching products and comparing prices. The most common items consumers want to buy via their cell phones are tickets to movies and events, travel services and games/toys.
"The number is just a fraction of the population, but being that it's such an early trend, it's got a lot of room to grow, " John Fetto, senior marketing manager for Experian Simmons told Aaron Baar from Marketing Daily.
Consumers want to use their phones to make a purchase. As of May 23, 2011, 15 percent of all adult mobile phone owners were interested in a service that would allow them to make a purchase in a store, up from 10 percent in February 2009.
Read the full interview between John Fetto and Media Post's Marketing Daily: http://www.mediapost.com/publications/?fa=Articles.showArticle&art_aid=155586.
Download a copy of the newly released 2011 Mobile report from Experian Simmons.