Did you know that back-to-school emails sent in July have the highest unique open rates?
A big part of a successful back-to-school email marketing program is knowing the best time to start promotions; what types of mailings will drive the most customer response; and how to capitalize on peak times of buying interest on a more granular, or product, level.
Back-to-School mailings with offers in the subject line had 69 percent higher transaction rates than those without offers.
According to a new analysis, major email marketing trends and opportunities for driving back-to-school retail sales, include: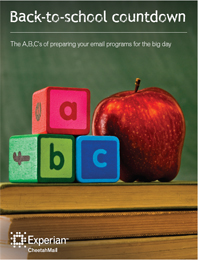 September shows a higher proportion of back-to-school supply promotions in comparison to apparel.
Search queries including "back to school" have increased each year for the past three years.
Back-to-School mailings with offers in the subject line had 69 percent higher transaction rates than those without offers. (This is noteworthy given the fact that during last holiday season, for example, campaigns with offers in the subject line provided an average 20 percent lift in transactions).
And more…
Click here to view all findings in the new white paper, 
Back to School Countdown: The A,B,C's of preparing your email programs for the big day