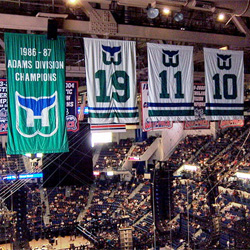 With a convincing win over the Butler Bulldogs, the University of Connecticut Huskies can now lay claim to #1 in the men's college basketball kingdom. The success of both the men's and women's basketball programs at UConn (nine collective national championship teams since 1999) has kept the city of Storrs, Connecticut and the larger Hartford-New Haven market area on the national basketball stage.
But basketball alone doesn't define the life and times of Hartford-New Haven residents. In honor of UConn closing out the season with 11 consecutive wins culminating in a national championship, here are 11 things you might not have known about the Hartford-New Haven market area. All rankings are based on Experian Simmons analysis of the top 100 Designated Market Areas (DMA).
The UConn Huskies' winning recipe included mixing two 20-minute halves of tireless defense with opportunistic play making. Making dinner in 30 minutes should seem like a breeze, especially when you consider that Hartford-area residents enjoy a healthy dose of Rachel Ray. In fact, the market ranks #1 out of the top 100 DMAs for readership (past 6 months) of Every Day with Rachael Ray magazine.
The Huskies were greeted at the airport the day after their big win by a large contingent of enthusiastic followers. Too bad the weather was wet and drizzly. Not to worry. Hartford-area residents are well equipped to deal with the elements. They rank #2 in buying catalog merchandise from outfitter L.L. Bean.
Sending both men's and women's teams to the Final Four is a big deal. Apparently, people in and around Hartford appreciate other types of deals too. The market ranks second in using the Internet and email as a source for coupons.
UConn basketball rooters take their sport very seriously. It's no laughing matter. Unless you consider this: Residents of the Hartford-area rank third in attending a comedy club.
What better way is there for UConn fans to celebrate than to shop for some NCAA basketball championship souvenirs? But when store shelves go bare, fear not; there's always the Internet. In fact, Hartford ranks third in making purchases online.
For all intents and purposes basketball season is over in Husky nation. So now what is there to do? The ocean isn't far away. That could explain why Hartford-New Haven ranks fourth in visiting an aquarium.
Located at the confluence of Red Sox and Yankee country, sports fans in Hartford can now turn their attention to another popular pastime. The market ranks fourth in the percentage of adults who say they are very interested in major league baseball.
The Huskies iced the championship with about three minutes left to play. Hartford-area residents are very comfortable on the ice; the market ranks fourth in participation in ice skating.
The Huskies went about their business in style. Not to be outdone, Hartford-area residents also have a knack for being stylish. They rank fourth in readership (past 6 months) of InStyle magazine.
Watching your favorite team as it progresses through the tournament can be tough on the nerves — not to mention causing ulcers and other health related maladies. Perhaps that explains why the Hartford market ranks fifth in online visits (past 30 days) to medical services and information websites.
Having lost their beloved NHL team (the Whalers) to North Carolina (the Hurricanes), Hartford cannot add a Stanley Cup to the trophy case. But area-residents still have a passion for hockey. In fact, the market ranks eleventh in the percentage of adults who say they frequently watch the NHL playoffs on TV, which get underway right… about… now.