With only a week to go until we release our 2011 Digital Marketer report, I wanted to comment on one of the themes we'll be focusing on in this year's edition, change.
I'm in the midst of preparing a presentation about how the Internet space has changed over the last five to six years. To be as realistic as possible, rather than just roll back some of our data to 2005-2006, I opened my presentation archive and read through some of my decks from that timeframe.
A PowerPoint file from the summer of 2005 focused on online video. There appeared to be a gaping hole in my survey of the online video landscape – no mention of YouTube (of course it hadn't launched yet).  That's when it hit me – I remembered how confident that I was in my prediction that Google Video would continue to own the Hitwise Entertainment-Multimedia category.
Another chart in the same presentation showed how MySpace was the 800 lb. social marketing gorilla, more than six times the size of nearest competitor Facebook, of course we all now how that story played out.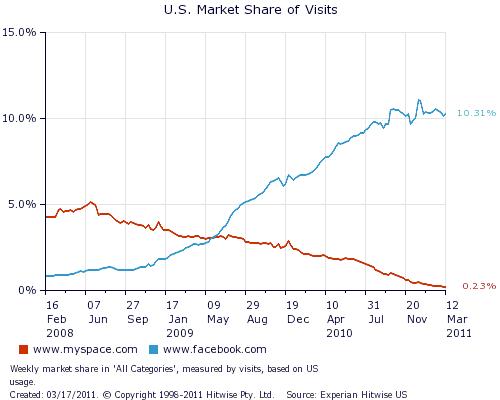 So today, when asked if Facebook will continue to dominate social networking, or if Groupon is worth $6 billion dollars, I'm not as quick to answer. The more you study observed Internet behavior, the more you realize how quickly things can shuffle.
So what's a digital marketer to do in an environment of constant change? The answer is to arm yourself with as much data as possible. This year's Digital Marketer report would be a great start.
Want to learn more about other purchase decision influencers? Click here to request a copy of Experian Marketing Services highly-anticipated 2011 Digital Marketer Report, launching in late March. The report features an editorial by Bill Tancer as well as unreleased data spanning email, social, mobile, search and more.