We're building towards the release of our 2011 Digital Marketer report, due to launch later this month. Along with insights into the changing online landscape, this year's report will continue to provide you with some valuable benchmarking data covering everything from social networks to multichannel and mobile marketing.
But as you'll discover in the 2011 edition, one of the oldest internet marketing channels on the Internet, email, continues to experience substantial grow in both volume and revenue. Readers can expect to discover data on what subject lines drive open rates and click-through activity, as well as an extensive analysis of email marketing through major gift-giving holidays.
While I won't reveal the specific insights of that section of our upcoming report (you'll have to register to get that data later this month), I thought I'd apply our Experian Hitwise data to answer the question of what sectors are the greatest benefactors of traffic from email services.   (Hint: if you're in the financial sector, run, don't walk to the registration link at the bottom of this page – you need this report).
The table below shows the top industries beyond social, search and portals, receiving traffic from our email services category, or web-based email.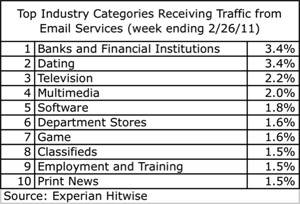 While we might jump to the conclusion that retail websites have the most to gain from email marketing, financial institutions receive over twice the traffic than the first retail category: #6 department stores.  The other categories that rely heavily on email traffic are dating sites and the entertainment category (television, multimedia and games).
We give a lot of attention to the latest social networking or mobile marketing acquisition channels, but given the fact that at the writing of this post, traffic to email services accounted for over 6.5% of all Internet traffic. What this translates to: if you're not focusing on email, you're leaving a lot of traffic on the table.
Want to learn more about digital marketing in 2011? Click here to request a copy of Experian Marketing Services highly-anticipated 2011 Digital Marketer Report, launching in late March. The report features an editorial by Bill Tancer as well as unreleased data spanning email, social, mobile, search and more.