In our upcoming 2011 Digital Marketer report, due to be released in March, we'll be discussing the continuing dominance of social networks, namely Facebook, to capture the title as most visited category of sites in our Experian Hitwise database.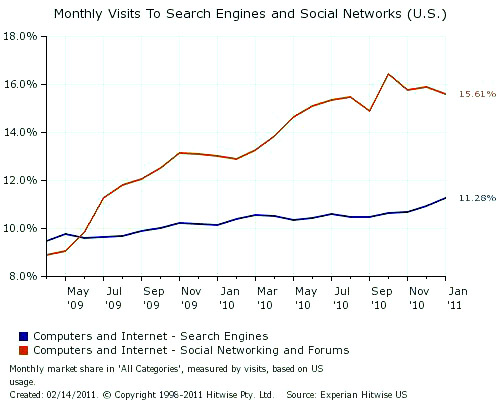 Beyond visit data; search volume of the top queries in the U.S. for 2010 versus 2009 demonstrates just how prominent Facebook has become in our Internet lives. Of the top 10 overall searches executed across the top search engines, social nets claimed five versus three in 2009.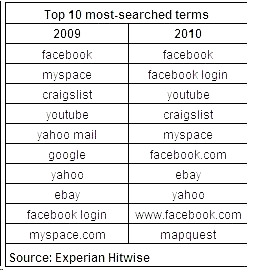 While Facebook continues to increase its lead over other acquisition channels, it is important to consider that social networks must still play in the ecosystem of online channels, and other channels such as portals must find a way to incorporate social into their future. In recent news, Yahoo! unveiled its plan to partner rather than compete with Facebook, reinforcing the concept of integrated channel marketing (social, search and display) in the online space by signaling that if you can't beat them…
To reinforce the concept of frenemies in the online landscape, below is a simple network map showing the flow of traffic between the major acquisition channels from the social network category's perspective.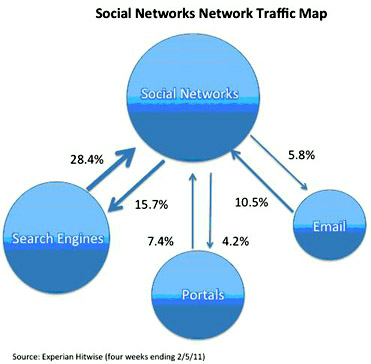 Analyzing the network map above, it's immediately clear that search, as a category, is the most significant driver of traffic to social networks, supplying over 28%. The other significant takeaway from the map is that social nets are not only the largest category online, they also can behave as parasitic hosts, taking more traffic from all channels than they supply back.
While switching costs in the social networking space may make any build-our-own-net a non-starter, partnership can also present some distinct dangers. Partnering with networks appears to make sense, but now the critical focus should be on augmenting return traffic from networks.
My apologies to Sun Tzu for butchering his landmark phrase from the Art of War, but when you consider traffic flow; search engines, portals and web-based email providers should keep their friends close, but their frenemies closer.
Want to learn more about digital marketing in 2011? Click here to request a copy of Experian Marketing Services highly-anticipated 2011 Digital Marketer Report, launching in late March. The report features an editorial by Bill Tancer as well as unreleased data spanning email, social, mobile, search and more.