Beyond the group-buying phenomenon, the second most noticeable trend in online retail for 2010 was the growth of flash sales. Gilt Groupe is often recognized as the innovator of these time-limited, deep discount online sales focused on luxury goods.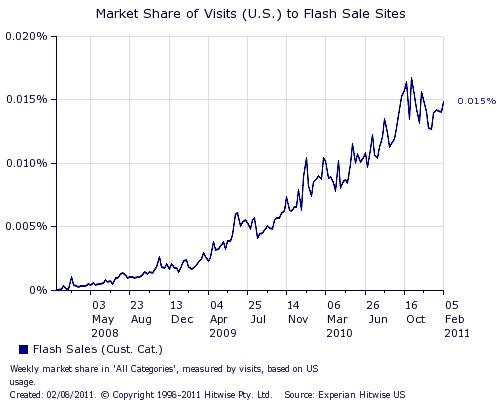 Despite economic turmoil, declining consumer confidence and decreases in consumer spending, traffic to these discount luxury goods sales has increased over 70% from January 2010 to January 2011. While at first it appears counter-intuitive that we would spend our recession dollars on high-end labels, the growth of the flash sales category reinforces the theory of affordable luxury.
Also known as the "lipstick theory," an Estee Lauder Cosmetics executive observed that in tough times, sales of lipstick increased. The theory behind this phenomenon is that, while not an essential purchase, a high-end brand lipstick provides a means to consume luxury goods without breaking the budget.
By examining the Mosaic™ types visiting the Experian Hitwise Flash Sales category, we can analyze what segments of U.S. consumers are most likely to surf for affordable luxuries. 
The results are pretty surprising.   The top types, by representation, for visits to the Flash Sales category include the lower income segment "Urban Diversity," followed closely by the most affluent type in the Mosaic breakdown, "America's Wealthiest."

We know from previous analysis that affluent consumers are known to engage in online deal hunting regardless of economic conditions.  Lower income segments, however, can become more active in finding online deals as confidence in the economy decreases, exhibiting behaviors that reinforce the theory of affordable luxury.
At Experian Marketing Services, our goal is to deliver actionable data that is pertinent to your end consumer. To that end, this is the third in a series of posts from our forthcoming 2011 Digital Marketer report containing consumer trend information, predictive benchmark data, and analytical insight necessary for marketers to maximize digital opportunities. The report covers all key marketing channels, including email, digital advertising, mobile, search, online communities and social media. Please make sure to read our consumer insights as we roll them out over the next two months and get your own copy of the report here.
Want to learn more about digital marketing in 2011? Click here to request a copy of Experian Marketing Services highly-anticipated 2011 Digital Marketer Report, launching in late March. The report features an editorial by Bill Tancer as well as unreleased data spanning email, social, mobile, search and more.