Americans are less likely today to send out traditional greeting cards than they were two years ago. According to weekly data from Experian Simmons DataStreamSM the percent of U.S. adults who purchased greeting cards has decreased by a relative 9% since January 2008. As of November 8, 2010, only 48% of adults reported having purchased a greeting card in the last three months, down from 53% who had recently purchased greeting cards on January 7, 2008. Surprisingly, online greeting cards are also less popular these days – having perhaps lost their novelty factor or because of the need for a more personal approach. Today, fewer than one percent of adults say that they have sent an electronic greeting in the previous week, down a relative 68% since January 2008 when almost 5% of adults said they sent e-greetings.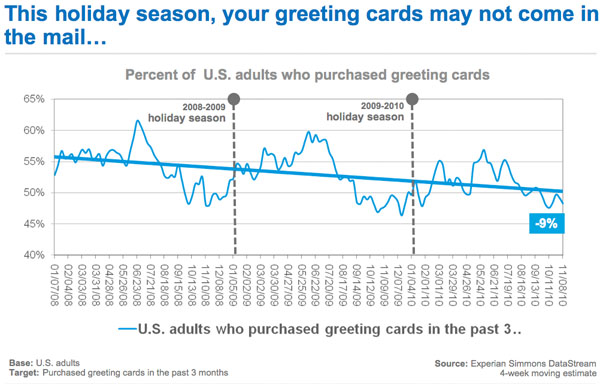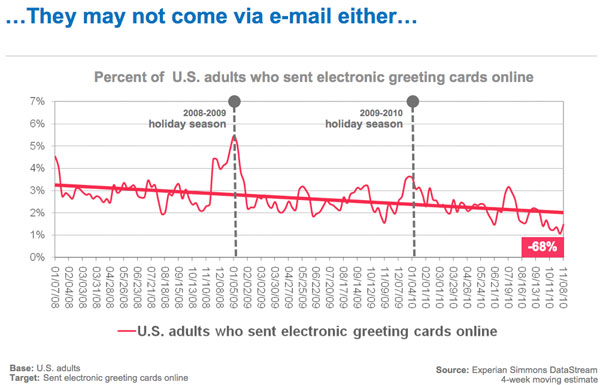 We should not assume that the spirit of the holidays has lost its intensity, however. New means of communication might have replaced the old ones. Take Facebook, for example. American adults visiting Facebook went up from 6% in January 2008 to 35% in November 2010 and we notice a spike in traffic right around the 2009-2010 holiday season. It is a possibility that a share of this year's holiday greetings might actually be delivered via Facebook instead of via mail or email, whether we "like" it or not!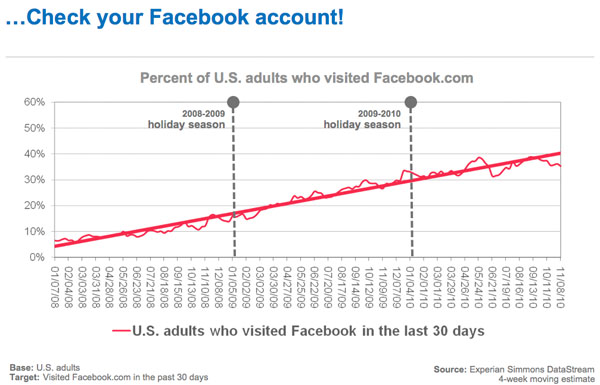 For more information on Simmons DataStream weekly reporting of nearly 40,000 consumer variables, visit our website.