According to weekly trend data from Experian Simmons DataStreamSM U.S. consumers have become more financially responsible since the Great Recession.
Over the past three years, credit card owners have been increasingly likely to pay their credit card balance in full each month. On average in 2010, 42% of credit card-holders typically pay their monthly balance in full, up from an average of 37% of card-owners who paid their full balance in 2008. Historically, consumers are most likely to pay their full balance during the summer months of June and July and least likely to pay during the winter months.
Consumers seem content on keeping those balances low. In 2010, the average share of credit card owners who use their credit cards between 1-19 times per month fell to an average of 63%, down from an average of 70% in 2008. However, the share of credit card users who use their credit cards more than 20 times per month has remained stable.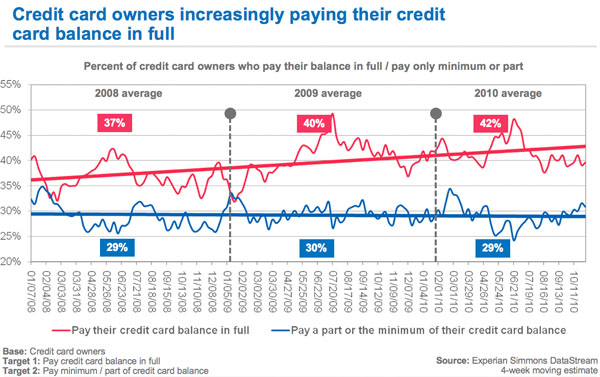 As consumers rack up seasonal debt on holiday purchases, it will be telling to see if they continue to reject the idea of carrying a balance when the bills come due, or if economic conditions are such that a certain amount of debt is once again acceptable.
For more information on Simmons DataStream weekly reporting of nearly 40,000 consumer variables, visit our website.