Here at Experian QAS we sometimes get inquiries from people who are looking to verify just one or maybe a handful of addresses. Typically they are looking to update addresses of relatives (e.g. for greetings cards) or double-check an address that the USPS® deemed 'undeliverable.'
Our software is designed to handle hundreds, thousands, even millions of addresses so it is typically too expensive for these kinds of inquiries. However, there is a solution… free online address verification tools!
In this article I will introduce you to two of these tools, along with providing some guidance on how to use them and the key benefits of each. So let's meet them, shall we?
Experian QAS also provides a free address verification tool powered by a stripped-down version of our QAS Pro Web software.
Old Faithful
The USPS provides a free tool at http://zip4.usps.com/zip4/welcome.jsp which can be very useful for verifying addresses on a small scale. The tool is robust and usable. Rest assured that it is accurate as the address data comes freshly updated from the most definitive source available!
Use this tool to:
Determine whether an address actually exists
Correct street descriptors (e.g. 'street' vs. 'St' etc.)
Add directionals such as 'N' or 'W'
Identify apartments and/or unit numbers
Advantages:
No limit on the number of searches you can do
USPS address data is the best there is
The New Kid on the Block
We also provide a free address verification tool available at http://www.qas.com/address-software/free-address-lookup.htm which is great for small volumes of addresses as well. This free tool is powered by a stripped-down version of our QAS Pro Web software.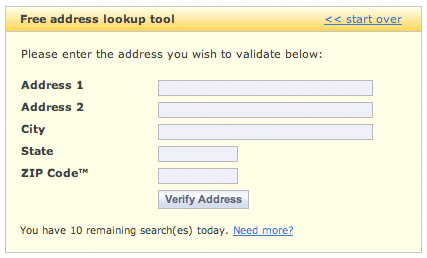 Use this tool to:
Search USPS® address data, as above
Browse all the valid addresses on any street
Check the street descriptor (e.g. Blvd vs. Ln etc.)
Advantages:
Easily cut-and-paste the final formatted address
Results are also based on USPS® data
I hope this information was useful. Of course, we are always looking to improve the services we provide for our customers, so please feel free to provide us with any feedback on our free address lookup tool via the forum post that accompanies this article.
Happy verifying!