Google recently announced plans to enhance Gmail by introducing a 'Priority Inbox' which will soon be rolling out to its estimated 200mm global users. Experian CheetahMail's deliverability team has received many inquiries about the new interface, what it may mean for our clients, and how it could affect deliverability.
From a deliverability perspective, this feature once again proves that building a good sender reputation that includes regular customer engagement is of the utmost importance. If users are consistently marking your mail with increased priority, then the sender's reputation will likely improve. If users are consistently marking mail with decreased priority, the sender's reputation will likely degrade. While the importance of these new priority settings are mainly user-specific, if too many people push the 'less important' button, then Gmail's algorithm will take this into account and may push those senders email into the "Everything else" section or possibly into the Spam folder.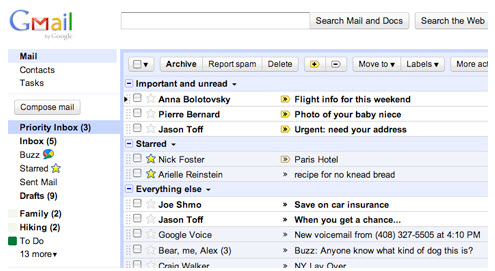 How Priority Inbox works:
Priority Inbox analyzes incoming mail, giving it a ranking and sorting it into four customizable sections: "Important and unread" (or just "Important"), "Starred" and "Everything else." "Important" messages are intended to be the most relevant or relationship-oriented, and sit at the top of the screen. Next is the "Starred" section which are messages the user manually flags or sets up as a recurring indication of importance. "Everything else" includes those messages that may not be from an established contact or regularly engaged with before.
Gmail will automatically determine which of your messages are 'Important' based on their algorithms and a few other aspects, including:
Who sent the email. For example, if you email Bob a lot, it's likely that messages from Bob are important.
What keyword terms it includes. If you always read messages about soccer, a new message that contains those same soccer words is more likely to be important.
Other actions such as: replying, using 'Stars', archiving, regularly opening, and deleting.
It will also be important for the user to interact and train the new Priority Inbox by using the + and – buttons or the 'important'/'less important' buttons. This will help the Priority Inbox learn which messages the user cares most about, in addition to teaching the algorithm about mistakes with mail marked as more or less important.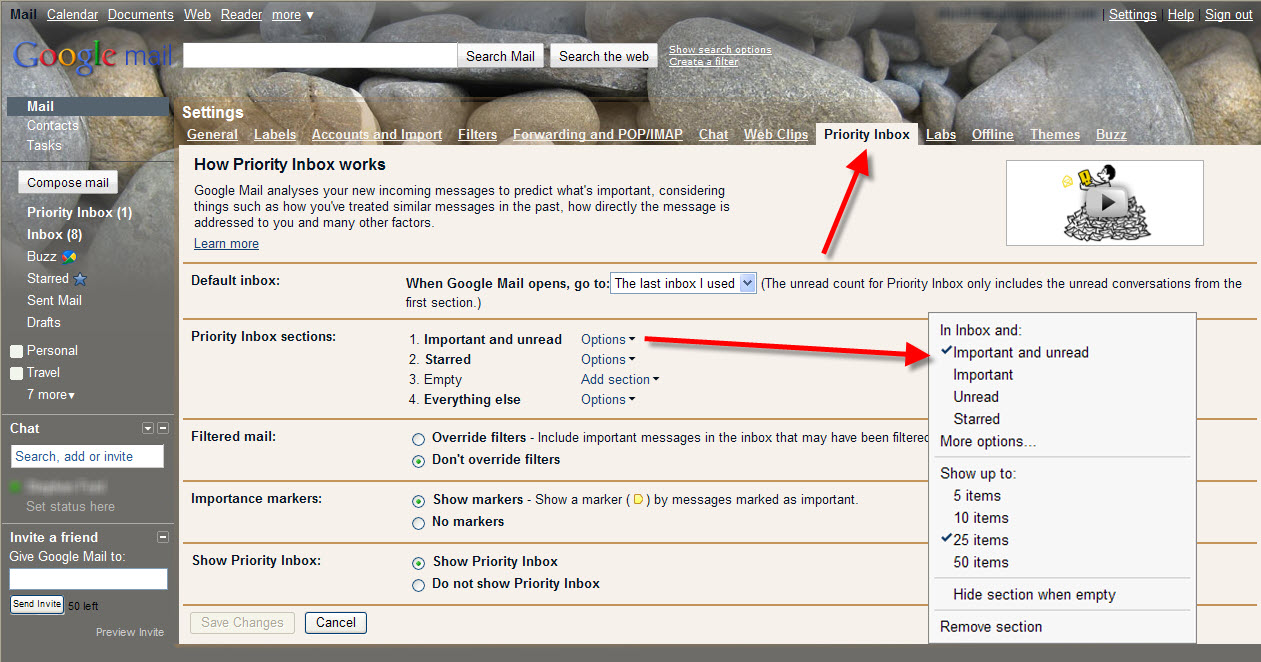 The new feature, like many of Google's platform enhancements, is free to all Gmail users who opt-in. It is important to note that the Priority Inbox is a feature that can easily be disabled and is fully customizable for each user. From the Priority Inbox tab on the Settings page, a user can decide how many mail items each section should display (5, 10, 25, or 50), and which view is default. Additionally, even if the user keeps the Priority Inbox enabled, a tab for the 'regular' Inbox is still a choice on the left navigation pane and can be referred back to at any time.
If the user has not customized any of the settings and then opens a message within the "Important and unread" section, those opened emails will then move to the "Everything else" section once the window is refreshed. A user can change this by customizing the settings so that even unopened email that would normally be in the "Important and unread" section are listed in the "Important" setting instead. This process is illustrated in the two screen shots below:


What it all means:
In general, the Priority Inbox should help senders reduce abuse complaints and default Spam foldering since users will have more options to express their preferences with Inbox placement instead of pressing the 'Spam' button. In addition, Gmail should now find it easier to deem questionable email (aka; 'bacn') as 'Everything else' as opposed to placing it by default in the Spam folder. However, for senders whose email is usually prioritized in the Inbox, yet is now in the "Everything Else" section, this change may hurt messaging performance. Over the next few months, the CheetahMail deliverability team will track delivery performance changes at Gmail and report back on any noticeable differences Priority Inbox has made on client delivery efforts.
For more information, refer to: http://mail.google.com/mail/help/intl/en/priority-inbox.html