Like many seasonal or anniversary oriented retailers, FTD has a Gift Reminder program, which they do a great job of promoting. (Side note: The name "FTD" originally stood for "Florists' Telegraph Delivery" when the company was founded in 1910. Then, in 1914, the name was updated to "Florists' Transworld Delivery." Who knew?)
I recently purchased two flower arrangements from FTD.com and noticed some pretty nice features revolving around their email reminders. The first mention of their reminder program comes during the checkout process — after the delivery information and before the payment options.

FTD does a great job with:
Being clear that this is an optional form. A customer does not need to fill this out in order to complete their transaction. As a consumer, I know that I am signing up to receive email notifications by completing this form.
The offer is clear and generous.
The rules are clear. I need to enter 5 reminders in order to receive 20% off my next order. This information is listed twice in a small space.
The form is easy to understand and simple to navigate.
Reminding customers about the gift reminder service again once the checkout process is complete. Since I did not enter 5 reminder email addresses and dates on my first attempt I was given the option to enter them again.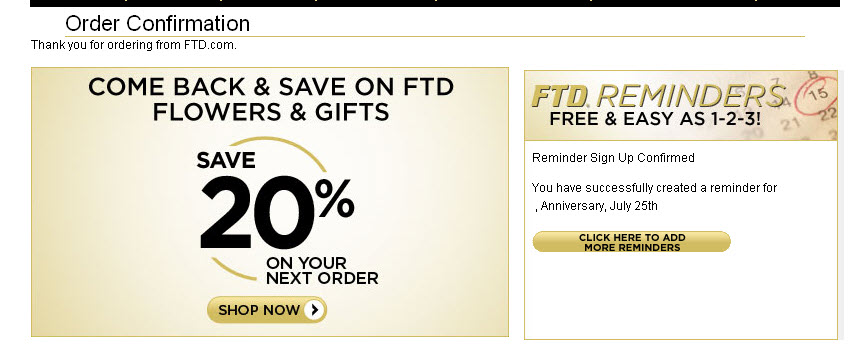 Do you have any examples of Gift Reminder services? How have these performed for you? Do you opt-in for these types of services? Share your experiences with us!