News of Americans' declining faith in the economic recovery has been widespread in the recent weeks, with unemployment concerns and dwindling stock returns contributing to an increasingly pessimistic sentiment. In fact, the Conference Board Consumer Confidence Index® fell to 52.9 in June 2010 from 62.7 in May 2010.
Even high earners, those with personal annual income of $150,000 or above, seem to be showing doubts in their own financial security. As of May 30, 2010, fewer than half of high earners (49%) said that they felt financially secure. This marked the first time since February 8, 2010 that less than half of America's top earners felt financially secure.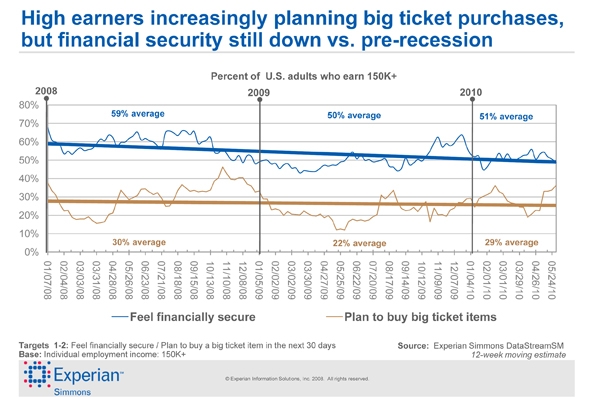 Interestingly, the same week that top earners' financial security levels hit an almost four month low, the share of this elite group making plans to purchase big ticket items rose to the highest level since December 12, 2008. On May 30, 2010, 35% of Americans earning $150,000 or more annually were planning to make a big ticket purchase within the next 30 days. Moreover, during the first five months of 2010, top earners planning to purchase big ticket items had nearly recovered to pre-recession levels. Though with word in June and July that the economic recovery was perhaps not as solid as previously reported, it is likely that many of those with their eye on big ticket items put those plans on hold, if only until the economic outlook improves.
Experian Simmons will continue to monitor this and other important consumer trends and share those findings here. To be the first to know when new insights from Experian Simmons DataStream are available request an alert here.