In the June 22, 2010 Simmons DataStream post, we illustrated a consumer trend indicating that Americans are increasingly paying off credit card debt in full each month. This time around, we are taking a look at the percent of credit card holders who pay off their credit card balance in full according to their level of their financial optimism. First, it is worth noting that the percent of U.S. credit card holders who are optimistic about the future of their financial situation has increased by 22% between October 6, 2008 through May 24, 2010.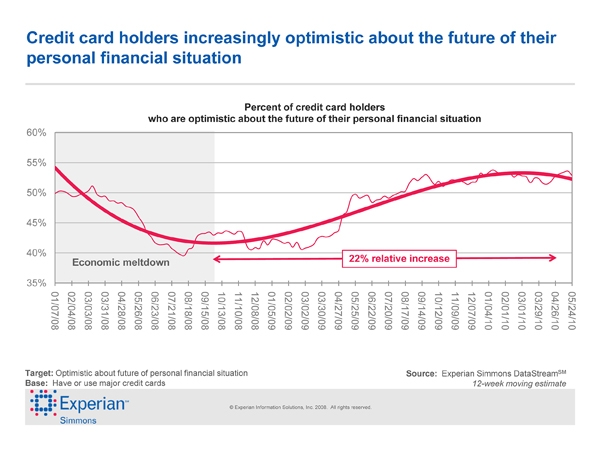 A significant focus of the U.S. economic recovery effort has been based on a return to pre-recession consumer spending levels, which includes leveraging available consumer credit in addition to disposable income. As such, we found the following consumer trend insightful: Prior to the economic downturn, financially optimistic consumers were less likely than financially pessimistic consumers to report paying the full balance due on their credit card each month. This behavior was no doubt driven in part by the belief that optimistic consumers would pay off acquired debt sometime in the economically rosier future. However, during the past year, the gap has significantly narrowed with both optimistic and pessimistic consumers today equally likely to pay off their credit card debt in full each month. In addition, financially optimistic credit card holders today are 14% more likely to pay their credit card balance in full than they were two and a half years ago.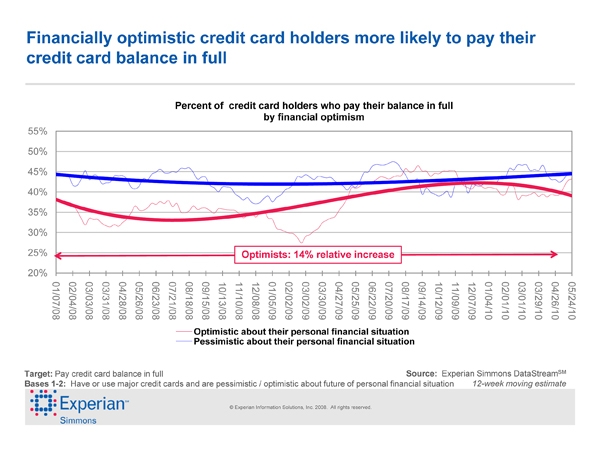 Consumers may be in a better economic position today given their increased effort to pay off debt, even in anticipation of more profitable months ahead. However, their growing discomfort with carrying credit card debt may be a hindrance to the recovery of the economy as a whole.
Experian Simmons will continue to monitor this and other important consumer trends and share those findings here. To be the first to know when new insights from Experian Simmons DataStream are available request an alert here.