I love my birthday. I admit it. I look forward to it every year. I like the cards I get from family and friends. I like the coupons I get from my local restaurant. I even like the birthday card I get from my dentist.
Studies show that I am not alone.
A new white paper from Experian Cheetahmail, The birthday and anniversary report: Benchmark data and analysis for email marketers, illustrates the impact that birthday and anniversary emails can have on your email program.
There are a number of key findings within the report, including the following:
Total open rates for birthday and anniversary campaigns are 3 times higher than those of mass promotion mailings.
Transaction rates are five times higher for birthday and anniversary emails than they are for bulk campaigns.
Birthday mailings sent to all subscribers with known birthdays pull much higher transaction rates and revenue per email than those sent only to select or loyalty members.
I don't know about you, but on my birthday, I want to be a bit extravagant and spend some money on myself, on decorating my home, or on a good time with some friends!
Here are a few examples of birthday/anniversary emails that have really caught my interest:
This email from Art.com offered me the chance to save some cash on a birthday purchase. In the study, emails that included discounts had the highest transaction rates and revenue per email of all the birthday mailings measured.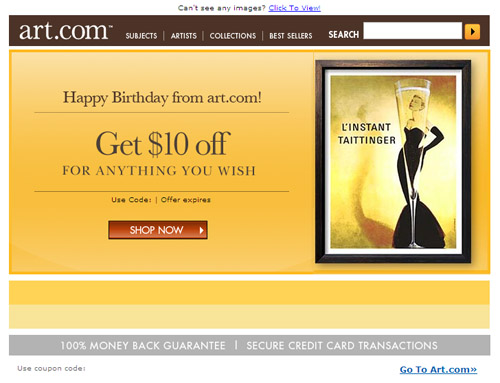 When it's my birthday, I can't afford forgetting to pamper myself. Aveda celebrated my birthday week by offering free gifts as a sign of their appreciation. According to the study, birthday campaigns such as these — mailed weekly or daily — had 40% higher transaction rates than those mailed monthly.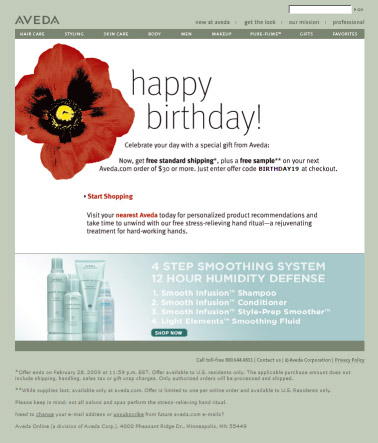 It's always best to spend birthdays celebrating with friends. Sands Casino-Resort got my attention and really captured the birthday spirit with photo of a cake and the promise of good time. Our report doesn't have data on the impact of cake imagery on email performance, but if I had to guess, I would say it helps!
Have fun with birthday and anniversary emails. Use these special occasions to connect with your customers, enhance their engagement with your brand, and increase your sales.
Learn more about the author, Shelley Kessler