I thought I'd quickly pass along a USA Today Snapshot featured data from none other than yours truly, Experian Marketing Services. Their chart lists the top 10 most popular subject-line keywords as pulled from our study, The 2010 digital marketer: Benchmark and trend report.
Are there any keywords that surprise you?
Are there any that you think should be on the list that are not there?
What about ones that you don't think are as popular?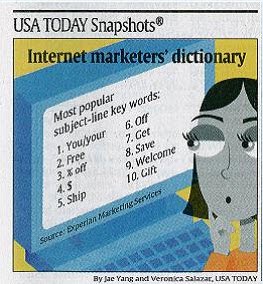 Share your thoughts with us!