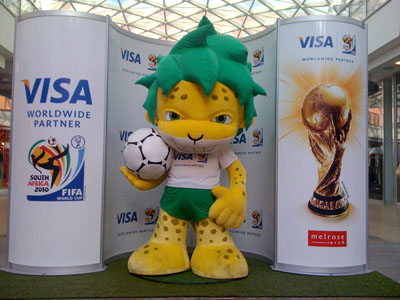 One year ago, Jordan wrote an excellent piece on the flawless online ticketing process carried out for the Michael Jackson Memorial. Well, I suppose for every yin there must be a yang — and I can tell you firsthand that the online ticketing process for the 2010 FIFA World Cup is certainly nothing to brag about.
You see, ordering tickets should be a straightforward process. You place your order, you receive confirmation of that order, and then you receive delivery confirmations or redemption instructions. But in the case of certain events such as the Jackson Memorial and the World Cup, there is one small difference in that ticketing lotteries are used to determine who receives tickets.
In theory, email is the perfect medium to execute a ticketing lottery. Once the drawing is complete, winning contestants can be reached instantly and privately with news of their purchase. Compared to past World Cups which have relied on postal mail and phone systems, email has provided a much more cost-effective and immediate medium for communicating with customers.
Unfortunately, FIFA really dropped the ball on their first attempt at online ticketing using email.
Let's start with the subject line of my order confirmation: 2010 FIFA World Cup South Africa™ – Ticketing Update. It's worth noting that nothing about that subject line indicates whether or not the recipient won or lost the ticketing lottery. To make matters worse, FIFA used this same exact subject line seven times when messaging me over the course of the ticketing process. So it's a realistic concern that many customers may have overlooked this email in the shuffle of all the other Ticketing Update emails they received over time.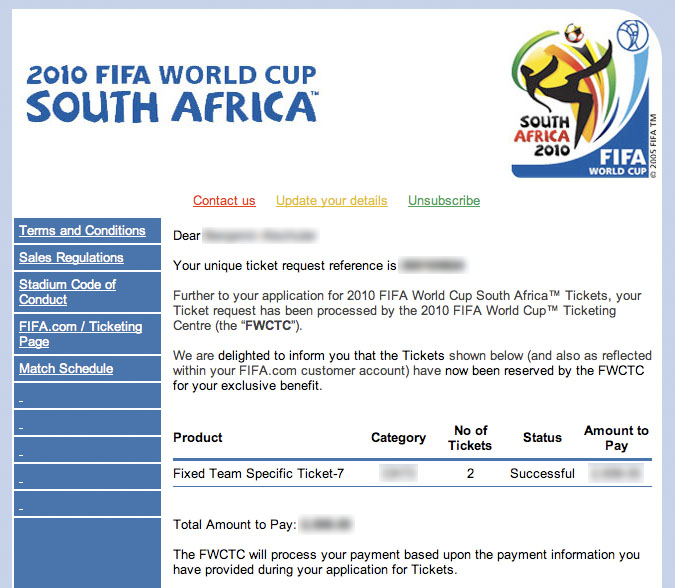 Then there's the simple matter of the email itself, which is a bit confusing. For a very important confirmation email, this message treats the actual confirmation portion of the message as an afterthought. For some reason, the vital information — namely, that the user has won the lottery — is buried beneath five lines of text. Next, there's the issue of the awkward phrasing that FIFA is "delighted to inform you that the Tickets shown below… have now been reserved by the FWCTC for your exclusive benefit."
In my experience, simpler is better. A quick "Congratulations" or "You've Won" would have certainly conveyed all of this information in a much more concise manner. Perhaps to deal with issues of internationalization (a major concern for a global event of this magnitude), FIFA could have added a photo of a celebrating soccer fan somewhere in there so that even someone who speaks little or no English could understand what had taken place. Alas, none of these simple tricks were used in the confirmation process.