Regardless of your feelings about the taste of Domino's Pizza, you have to hand it to these guys – they do online checkout processes better than just about any company on the planet. We could all learn something from their CRM and online marketing initiatives.
A few months ago, I had an eye-opening experience when a friend of mine decided to order a late-night pizza from Domino's well after most local eateries had closed their doors. I was blown away with what I saw — the Domino's website features a real-time "pizza tracker" that shows the progress of your pizza being prepared, cooked, and delivered to your doorstep in 30 minutes or less. Sure enough, a hot pizza arrived at our door merely 25 minutes later, nevermind the fact that it was very late at night and snowing outside.
Comparing this with my previous Domino's transactions from back in the day, it almost seems crazy to think about the typical Domino's experience of yesteryear. The last time I had ordered Domino's, the following were all true:
Their commercials featured a claymation "Noid" who supposedly plagued other pizza delivery companies with quality control issues.
The telephone I used to call Domino's was a dormitory pay-phone.
To ensure there were no problems with delivery, I waited patiently by this pay-phone until the delivery man either showed up at my door or called me back asking for directions.
It's amazing what technology and innovation has done to improve the pizza ordering and delivery process since then.
After filling out a few simple forms and checking off a few boxes —including submitting a telephone number and email address (with the option to opt-in) — the order is placed and the customer data is captured. The customer can see exactly what is happening with their order and has multiple ways to be contacted by Domino's should any issues arise. I certainly don't miss the days of shouting "Extra cheese!" over the phone and crossing my fingers when the order arrived.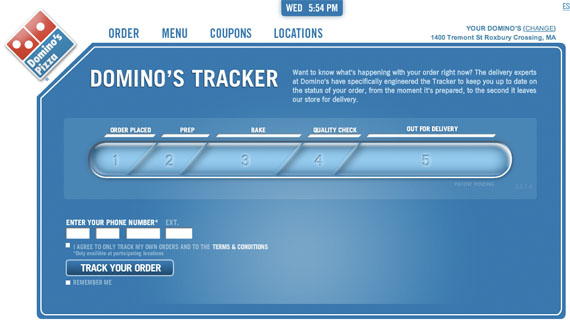 Of course, great service is only part of the equation here – what about the food? Much has been made of Domino's recent "Pizza Turnaround" multichannel ad campaign that aims to address criticism of their actual food head-on. Bob Garfield at Ad Age believes that Domino's does itself "a disservice by coming clean about its pizza," while Gawker Media's headline jokingly states that "Domino's Strikes Gold With 'Our Pizza Sucks' Campaign."
While previous customers may be turned-off to learn that Domino's has knowingly been serving sub-par pizza for years, I feel like this campaign strategy is not a huge risk as some have stated. My guess is that most people ordered Domino's in the past mostly because they could count on it being there quickly and prepared in a consistent manner. Taco Bell certainly followed this formula to great success in the 1990′s. With a new set of flavors and recipes added to their track record of punctual and professional delivery, Domino's could do well with this new strategy.
As someone who has not been a loyal customer in the past but does recognize how good Domino's is at delivering pizzas, I must say that this latest campaign makes me want to take them up on their offer. If their "new pizza" is half as good as their online ordering system, Domino's should be cooking up a storm in 2010.