With the 2010 Consumer Electronics Show wrapped up and Macworld 2010 just a few weeks away, Experian Simmons is examining American consumers' use of electronic gadgets. No, we won't be looking at American's penchant for iPhone-controlled helicopters or 3D TVs just yet, but you will find a wealth of information on trends surrounding TVs, mobile phones and video games as well as emerging media devices.
The following slides leverage data from Experian Simmons' National Consumer Study and New Media Study to provide insights into the behaviors and attitudes of American electronic consumers.
In both 2009 and 2006, approximately 20% of American households bought a new TV. Last year only 18% of new TV households reported their most recently purchased TV was of the traditional tube sort, down from 2006 when fully 70% of new TVs were traditional tube sets. Seventy-one percent of new TV buyers in 2009 reported purchasing either an LCD or Plasma TV, more than double the rate in 2006 when just 25% of new TV buyers purchased LCDs or Plasmas.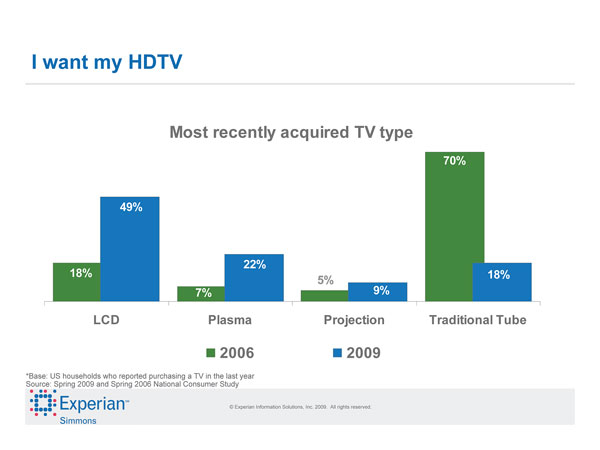 Compared to three years earlier, TV buyers in 2009 reported buying bigger sets and spending more money. Nearly half of new TV buyers reported the screen size of their most recent purchase was 40 inches or larger. In 2006, fewer than one in five new TVs were as large. While the average price of big screens has dropped over the years, consumers are still paying more today for new TVs than they did in 2006. Fully 40% of 2009 new TV buyers dropped a grand or more on their set, compared with only 23% who spent as much in 2006.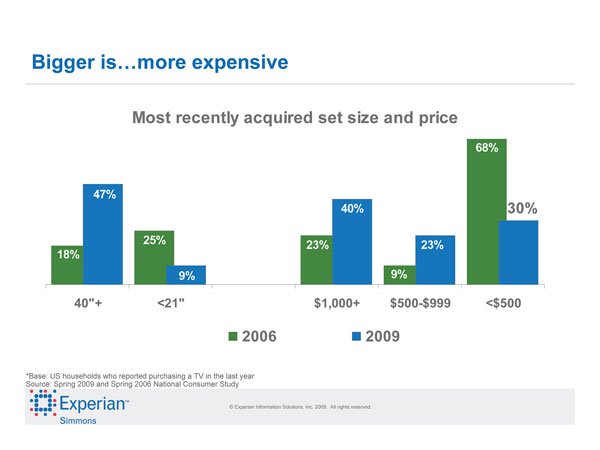 Consumers' shift to digital continued over the past three years. Between 2006 and 2009, ownership of VCRs among U.S. households dropped 13% to 79%. Meanwhile, DVR ownership doubled, with 40% of households in 2009 reporting owning a DVR. While over 90% of U.S. households in both 2006 and 2009 reported owning a DVD player, Experian Simmons observed that in 2009 55% of homes owned 2 or more DVD players, compared with only 39% who owned multiple players in 2006.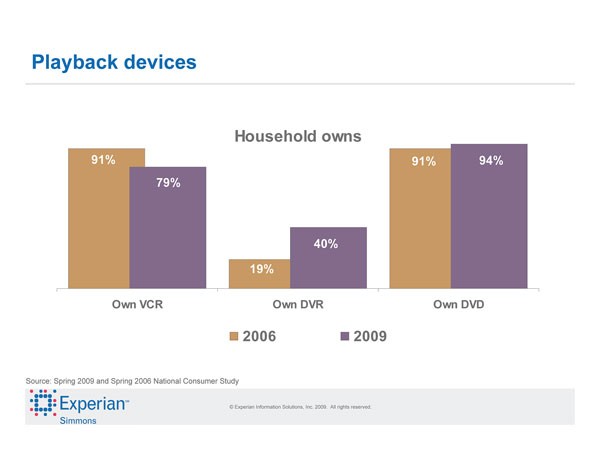 Nearly 9 in 10 American adults now have mobile phones up from 7 in 10 in 2006, an increase of 26%. The rise in mobile phone use among teens in recent years has been even more dramatic, as ownership rates rose nearly 36% between 2006 and 2009. Even kids as young as 6 are getting in the game with 1 in 5 kids ages 6 to 11 reporting that they have a mobile phone.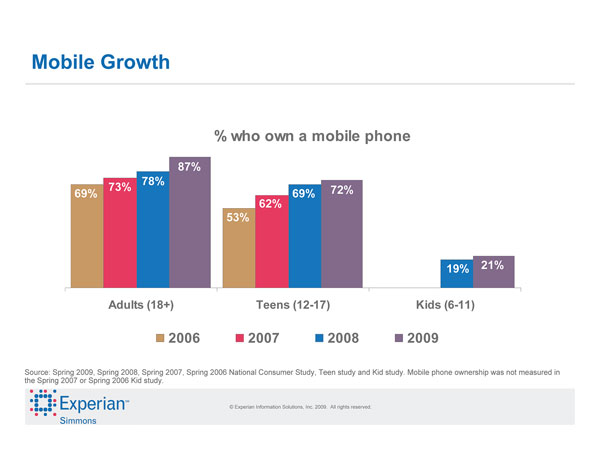 The most popular mobile function today—aside from talking—is taking pictures, which 70% of mobile phone owners do each month. Nearly a third of mobile phone owners (31%) use their phone to check personal email vs. 21% who check work mail. Nearly a third also go online from their phone, which allows them to do things like check their Facebook status, download apps and even watch streaming video…features that are certain to gain traction as smartphones and "super" phones find their way into more consumers' hands.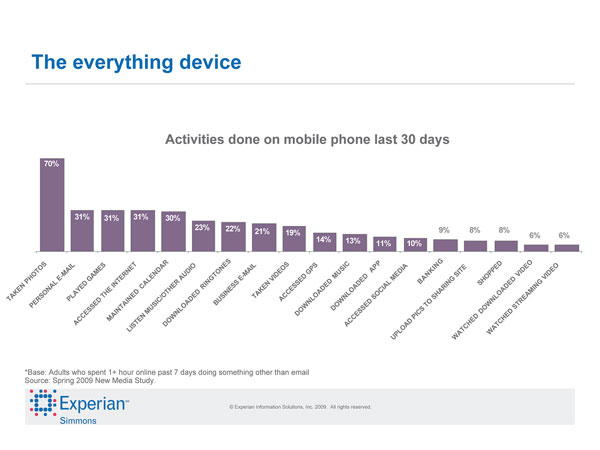 In 2009, over 153 million adults, teenagers and kids said they owned or played video games up from 140.4 million just two years earlier. Video gaming among adults grew a relative 9% between 2007 and 2009 with almost half of all adults now saying they own or play games.  Gaming growth among kids ages 6 to 11 rose 8% to 92% in 2009 and teen gaming grew just 2% with 9 out of every 10 teenagers now saying they get their game on.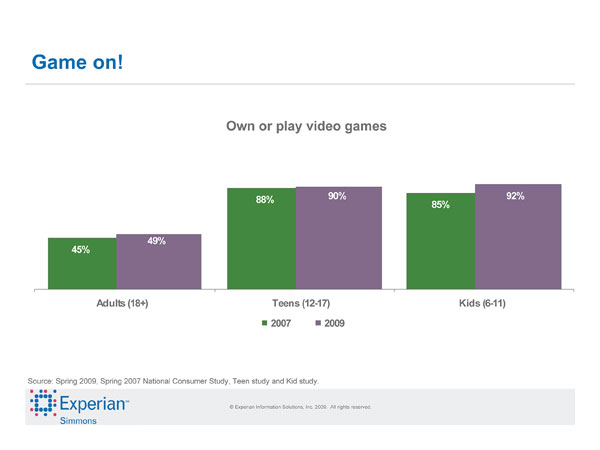 Various PlayStation- and Nintendo-branded gaming devices are the top gaming platforms among adults, teenagers and kids. While the two gaming giants enjoy relatively equal usage among adults and teens, kids are 27% more likely to play Nintendo-branded platforms than PlayStation ones. Teenagers and kids play every branded gaming device, including computer games at rates at least twice that observed among adults.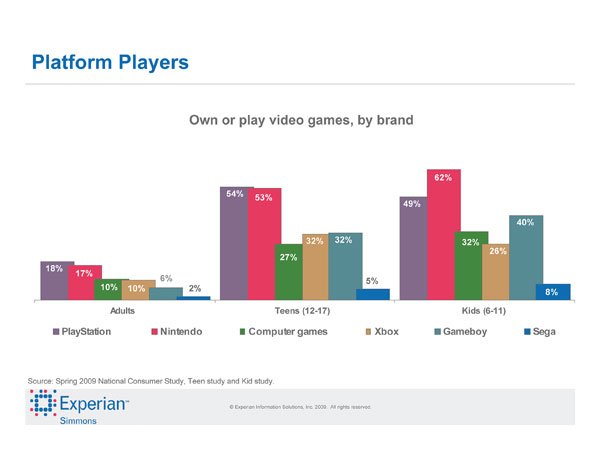 Adult and teenage gamers are increasingly playing games that connect to the Internet. In 2009, a third of teens who own or play games and 19% of adult gamers played video games connected to the Internet, up from 23% and 12%, respectively, in 2007. Growth in connected gaming was not observed among kids however suggesting a continued level of discomfort among parents of young children playing games online.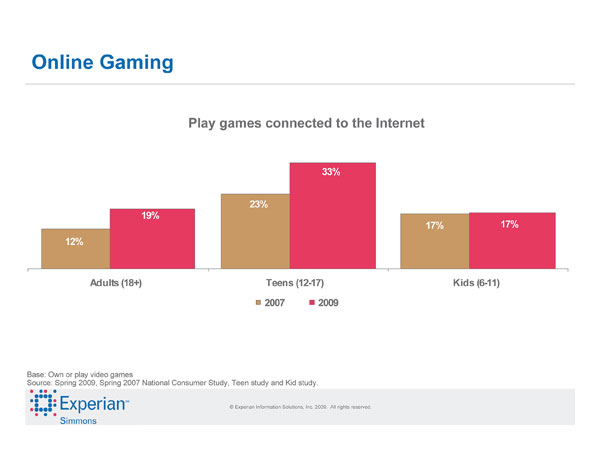 Connected gaming devices like Xbox and PlayStation offer users the ability to log into a rich media environment offering game downloads, but also movie and TV program streaming, social networking and more. Over half of Xbox or Xbox 360 owners log into those device's Xbox Live at least once a month. Twenty-three percent of PlayStation 3 or PSP owners log into those device's PlayStation network at least once a month.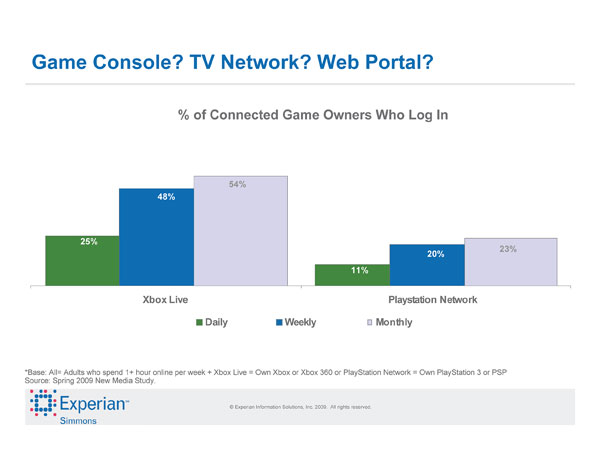 Consumers are continually adopting new media devices, some demonstrating greater success than others. Today, nearly a third of online adults say they have made a phone call through a computer with a program like Skype in the last 30 days, over a quarter say they watch TV programs or movies online and 17% say they listen to Internet radio. Use or virtual experience sites and TV redirectors like Slingbox remain at the lower end of the adoption spectrum.