Traffic at America's airports always peaks during the holiday months. But given our nation's less-than-ideal financial situation Experian Simmons wondered how traffic on America's roads, skies and rails this year compares to the past. A review from the Experian Simmons Summer 2009 and Summer 2008 full-year National Consumer Studies shows that domestic vacation travel is slightly down this year compared to last.*
This report reviews the these and other travel behaviors and preferences of Americans.
Preferred Transportation when Traveling
Over the past year, all modes of transportation, except for buses, have seen a decrease in the percentage of vacationing Americans using them for travel. This is likely due to the fact that fewer Americans are vacationing away from home. Compared to 2008, there were over half a million fewer Americans who took a domestic vacation within the last 12 months.
Frequent Flyer Programs
Thirty-two percent of Americans who vacationed domestically within the last 12 months are enrolled in at least one frequent flyer program. According to the Summer 2009 Experian Simmons National Consumer Study, American and Delta lead the way with a third of domestic vacationer frequent fliers enrolled in each airline's program. Next, we'll review the specific airlines Americans fly when going on vacation.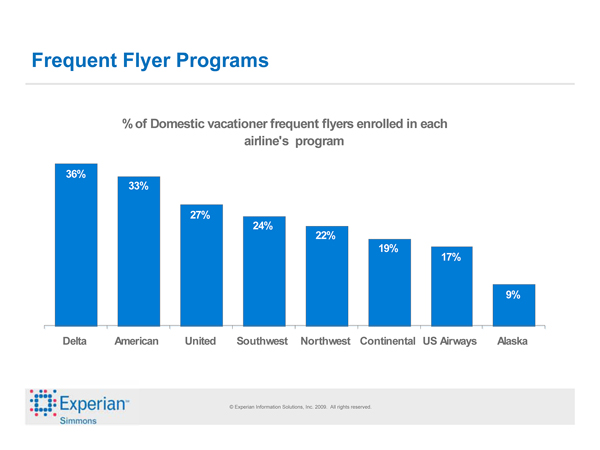 Top 5 Airlines for Domestic Vacation Travelers
Southwest tops the list of airline companies on which domestic vacationers flew during the last 12 months.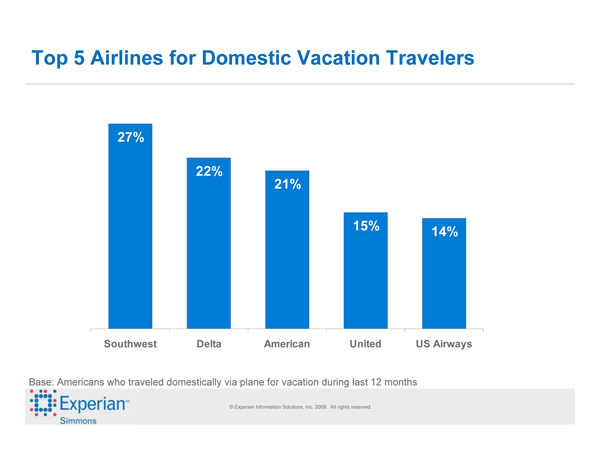 Top Domestic Destinations
The South Atlantic region is the top domestic destination among Americans who traveled for vacation in the last year followed by the Pacific and Mountain states. Fewer than 10% of American vacationers traveled to New England last year.