Looking at data provided by Experian Hitwise, we can confidently say that the email channel has lots of traction with some of the most sought-after consumers in the country.
If you follow media news, chances are you've heard the expression "coveted demographic" used to refer to a particular audience segment that most advertisers wish to target. Often times, TV networks, magazines, websites, and movie studios tout their "coveted demographics" to give the impression that advertisers are only an ad placement away from reaching the hearts (and wallets) of the free-spending masses.
But what about email? Does the email channel reach these "coveted demographics?" A quick look at the data indicates that yes, email is a popular choice among consumers with the most spending power.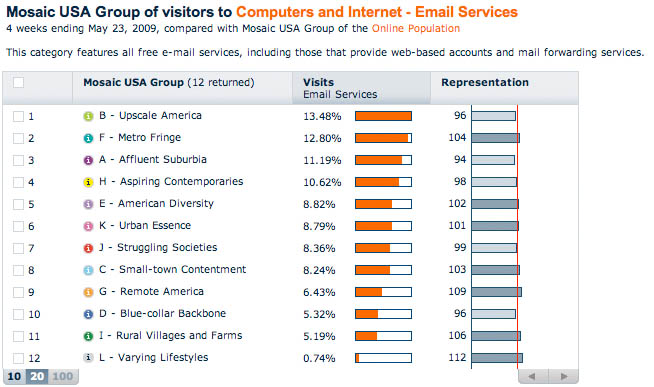 Of the top four Mosaic lifestyle groups that use email the most, three of them are what you would describe as upper-middle to high-end American consumers. In other words, a large proportion of email users have discretionary income to spend on the products and services of their choosing.
Obviously, this analysis is a bit simplistic — the definition of a "coveted" lifestyle group is subjective and depends heavily on an advertiser's type of business (think of the difference in customer demographics between dollar stores and luxury designer stores, for example). But at the end of the day, the consumers with the highest spending potential represent the highest potential customer lifetime value to the marketing world, so the generalization is legitimate to a certain extent.
A quick glance at three of the top four lifestyle groups that use email the most reveals as much:
Upscale America:

College-educated couples and families living in the metropolitan sprawl earning upscale incomes providing them with large homes and very comfortable and active lifestyles.

Affluent Suburbia:

The wealthiest households in the U.S. living in exclusive suburban neighborhoods enjoying the best of everything that life has to offer.

Aspiring Contemporaries:

Young, mostly single, ethnically diverse, online active households living in new homes or apartments with discretionary income to spend on themselves.
Learn more about consumer behavior with online competitive intelligence by Experian Hitwise and lifestyle groups by Mosaic, Experian's lifestyle segmentation system.